 According to RescueTime, a tool I use to monitor my activity online, I spent two hours on Twitter, 74 minutes on Facebook and 42 minutes searching Google during the first week of October.
What the application can't tell me, however, is what I gave up to do so. Would I have been working? Sleeping? Speaking with friends, rather than stalking them?
The answer is all of the above, according to Scott Wallsten, an economist and researcher at the Technology Policy Institute, a Washington-based think tank.
In his new report "What Are We Not Doing When We're Online," Wallsten used eight years of federal data on Americans' leisure activities to calculate the cost of all the time we spend on the Web.
While researchers have long debated what we give up to surf social media or get lost on Google, Wallsten has offered a definitive and detailed look at how apps and websites eat away at other pursuits. The short answer: Facebook's gain may be our employers' -- and friends' -- loss.
By Wallsten's estimate, every hour we give to online leisure pursuits, including browsing Facebook or searching Google, corresponds to 16 fewer minutes working, 7 fewer minutes sleeping and 17 fewer minutes for all other leisure activities, including going to parties, watching TV and visiting museums.
Each hour I spent this month on Facebook and Twitter would have eaten up three minutes of offline socializing, and an additional 2.4 minutes of "relaxing and thinking," according to the report's calculations.
Intriguingly, Wallsten's findings suggest not only that we're giving up face time to hang out online, but that we see in-person socializing as interchangeable with online interactions. As we spend more time hanging out on the Internet, we spend less time hanging out offline.
"The results suggest that people do view online and offline socializing to be somewhat substitutable," Wallsten noted in an interview. In his report, he wrote that the findings demonstrate, "a cost of online activity is less time spent with other people."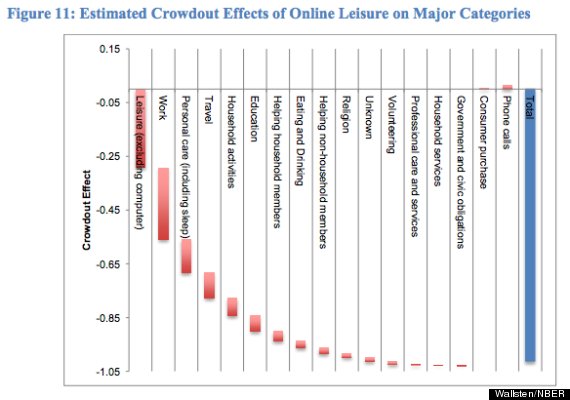 Wallsten's findings are based on data collected from 2003 to 2011 by the American Time Use Survey, an annual poll of 13,000 Americans launched in 2003 by the Bureau of Labor Statistics and the U.S. Census. The survey aims to find "nationally representative estimates of how, where and with whom Americans spend their time."
From 2003 to 2011, we doubled the share of free time we spent on computers from 8 minutes to 13 minutes a day, while our total daily leisure time stayed constant at about five hours.

Thirteen minutes may seem bizarrely small for online leisure, given the hours that Gmail and Netflix can consume. Indeed, because the survey tracks what we do -- not which device we're doing it on -- email, gaming and watching YouTube videos are excluded from that total and tallied in separate categories. Those 13 minutes of computer-based leisure time include activities like search and social networking, as well as smartphone use, according to Wellsten. (A major limitation of the data, however, is it does not account for multitasking.)
The report aims to better quantify the wealth-creating potential of the Internet by probing the opportunity costs of innovation and Web services. While services like Google and Facebook may not require credit cards, they're hardly "free." As the study noted, a minute on those sites costs seconds elsewhere. For teens ages 15 to 19, an hour online means 18 fewer minutes spent on educational activities. For Americans ages 25 to 39, an hour of leisure time online comes at the expense of 20 minutes of work.
"The crowd-out effect is sufficiently large that understanding the true economic effects of the Internet must take them into account," wrote Wellsten. If not, economists are likely to "over-estimate the incremental economic surplus created by the Internet."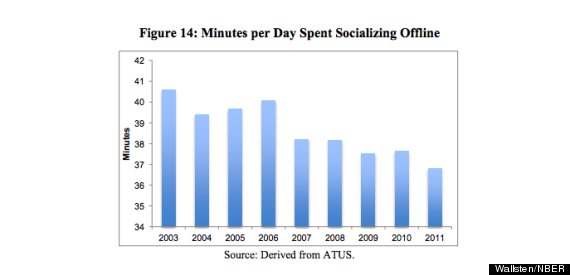 "My results also suggest that other offline leisure activities that involve interacting with other people are crowded out by online leisure: attending parties and attending cultural events and going to museums are all negatively correlated with online leisure," wrote Wallsten.
It's not only economists who should take note. Anyone who's ever questioned social media's influence on our social lives should give special attention to Wellsten's conclusions.
Even as computer-based leisure activities rise, the 13 minutes they consume each day pale in comparison to how much time we spend watching television, which still accounts for more than half of Americans' daily leisure time.
As Wellsten noted, "What we still like to do more than anything else is sitting down and watching a screen."