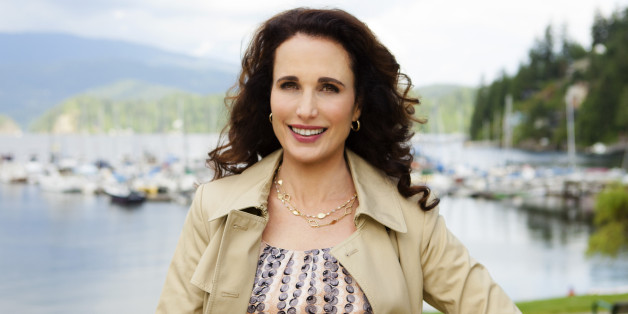 Actress Andie MacDowell will always have our hearts after starring in classic '90s movies like "Groundhog Day" and "Four Weddings And A Funeral." Like other film actresses these days she's made her way to the world of TV, starring in Hallmark Channel's "Cedar Cove."
A Hallmark Channel original series (the cable channel's first) gives a built-in wholesome quality to the show and its storylines, something MacDowell has found out is not true for the rest of TV's offerings.
When interviewed for Adweek about balancing her life as a mother and starring in a new TV series, MacDowell was asked about what other shows she's currently watching. While she mentioned enjoying "The Newsroom" it was when the subject turned to the Lena Dunham vehicle, "Girls" did her opinion change:
"And I watched the whole first season of 'Girls' with my daughters. I probably won't watch the second season -- it was too immature for me -- but it was interesting," MacDowell said. "I'm going to sound like an ancient person, but I was rather shocked at what they can show on TV now!"
MacDowell isn't the only one to criticize the sexual graphicness of "Girls" (though feminist icon Gloria Steinem loved it), but with "Cedar Cove" being picked up for a second season she probably won't have too much spare time to catch the second season of "Girls" anyway.
"Cedar Cove" aired its season finale on October 12, and will return to the Hallmark Channel in 2014.
BEFORE YOU GO
PHOTO GALLERY
'Girls' Season 2 Photos