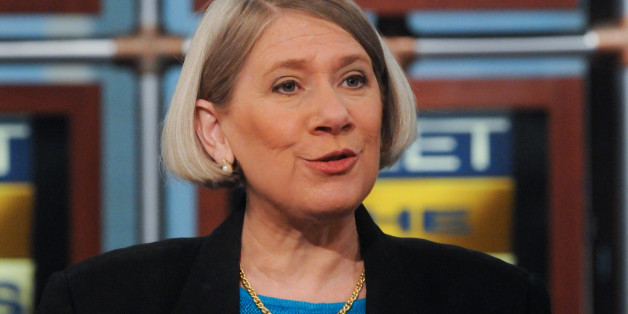 A new petition launched by a progressive group is calling on a former communications director and campaign adviser to President Barack Obama to stop her work on behalf of TransCanada, the company seeking permission to build the Keystone XL pipeline.
Created by progressive group CREDO, the petition criticizes Anita Dunn's firm, SKDKnickerbocker, for creating TV ads in support of the pipeline. The petition claims that Dunn's work for TransCanada is at odds with her role in Obama's campaign, which itself has underscored the importance of addressing climate change. "It's a betrayal of the commitments that so many of us worked so hard for, and that Dunn herself played a huge role in shaping as top strategist on the 2008 campaign and communications director in the White House," the petition reads. "We need to call out her unprincipled and hypocritical work trying to force approval of Keystone XL."
As of Monday afternoon more than 115,000 people had signed the petition.
Approval of the Keystone XL pipeline, which would carry oil from Canada to refineries on the Gulf Coast, has been a major environmental battleground for President Obama's administration. The pipeline would allow for further development of the Alberta tar sands oil, a move that activists worry could be disastrous environmental consequences.
The petition also highlights Dunn's close ties to the White House, which The New York Times chronicled in October 2012. Executives at SKDK told The New York Times that Dunn was "scrupulous about separating her political work from her corporate agenda, and that she followed White House ethics rules barring her from appealing on behalf of clients."
SKDKnickerbocker commented on the petition Tuesday in an email to The Huffington Post.
"We are proud to help with the advertising on behalf of the Keystone Pipeline, which is supported by organized labor and 17 Senate Democrats, including several that are critical to Democrats' holding the majority," the email said. "Like many other Democrats, we see this project as a boon to the economy, a job creator and a key part of the nation's all-of-the-above energy strategy to reduce our dependence on foreign oil in an environmentally responsible way."
The latest ad from Dunn's firm contrasts oil from the volatile Middle East region with oil that would be carried by the Keystone XL pipeline from Canada, a close ally. "The TransCanada Keystone XL pipeline could eliminate America's reliance on unstable and often unfriendly foreign energy in 10 to 20 years," the narrator says, while the camera pans across Canadian forests and shows workers building a pipeline.
The New York Times has also reported that recent ads in opposition to the Keystone XL pipeline were produced by a former Obama consultant, ad maker Jim Margolis.
This is a developing story and has been updated.
BEFORE YOU GO
PHOTO GALLERY
Connect The Dots On Climate Change