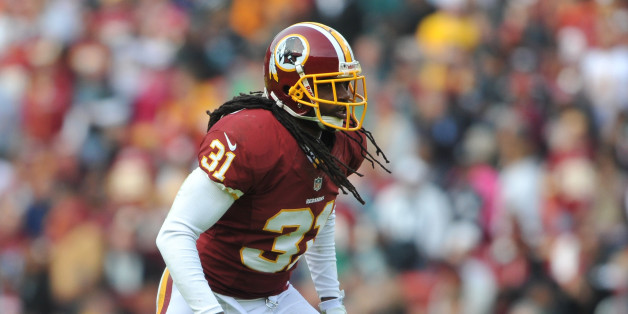 Bears receiver Brandon Marshall suggested that the NFL might need to take Redskins safety Brandon Meriweather "out of the game completely" after he made two (more) helmet-to-helmet hits in Washington's 45-41 win.
"Guys like that really don't understand that there is life after football," said Marshall, via the Chicago Tribune. "I respect the league trying to better our game and guys like that, maybe he needs to get suspended or taken out of the game completely. I understand. I get it. I was one of those guys. I played defense growing up. I was a headhunter. Even sometimes on the offensive side, I played that way. But with rules in place, you've gotta respect it."
Marshall was on the receiving end of Meriweather's second illegal hit of the game on Sunday. Both Marshall and Meriweather appeared to be shaken up after the play and apersonal foul was called.
However, Meriweather didn't think the hits he made were illegal.
"I feel every hit I took was a legal hit. I wasn't trying to be dirty," Meriweather said, per ESPN.com. "I wasn't trying to hurt nobody. I didn't lead with [or] lunge with my head. I used my shoulders like they told me to do."
Meriweather, who has already been fined for a helmet-to-helmet hit this season, joked about a potential punishment from the NFL in the locker room.

UPDATE: Meriweather has been suspended for two games with out pay, per Joseph White Jr. of the Associated Press.

BEFORE YOU GO
PHOTO GALLERY
PHOTOS: NFL Week 7