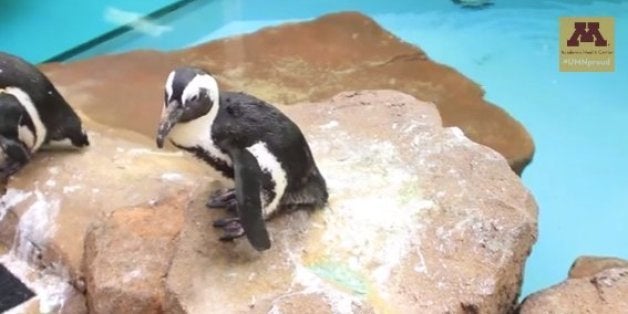 We don't know how else to put it: you aren't ever likely to get a more charming look inside a penguin's brain than this.
After conducting a battery of inconclusive tests, veterinarians decided to give Fluffy a brain scan -- the first penguin MRI that vet Micky Trent had ever come across. "So this was a first," Trent says in this video -- which, happy spoiler, ends with the adorable Fluffy receiving antibiotics, regaining his balance, and going off to eat more fish with his buddy named BJ. In the middle, which is also exciting, you'll get to see an image of the penguin's brain:
We asked U of M spokesperson Miranda Taylor where Fluffy lives when he's not undergoing medical treatment, in case readers wanted to visit, or to send flowers (or fish), but it turns out that the inside of Fluffy's head is more readily accessible than the rest of him.
"I'd love to share, but Fluffy's caretaker has expressed a preference to not be named," Taylor said. "So sorry I can't be more helpful!"
BEFORE YOU GO
PHOTO GALLERY
The World's Most Threatened Species