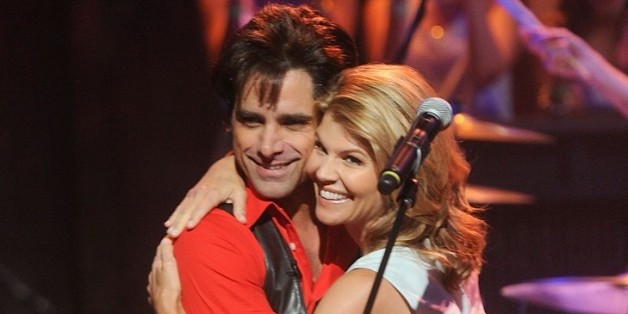 When John Stamos revealed on HuffPost Live back in June that he and Lori Loughlin had actually dated years ago and that she might be "the one that got away," hearts everywhere exploded. Last Week, E! News caught up with Loughlin at the opening of the Wallis Annenberg Center for the Performing Arts in Beverly Hills to get her response, and though diplomatic, it doesn't disappoint.
"Oh my goodness. Well, we'll never know, right? I will always love John, always," Loughlin said. The 49-year-old actress is nowadays married to fashion designer Mossimo Giannulli with whom she has two daughters, notes the Los Angeles Times.
Both Loughlin and Stamos, who played Aunt Becky and Uncle Jesse on "Full House," have addressed the issue of timing in their separate HuffPost Lives interviews. They had apparently gone on a couple dates when they were 18 or 19, per Stamos, but then Loughlin got married and by the time that relationship ended, Stamos had already gotten together with his now ex-wife Rebecca Romijn.
Last month, Stamos admitted to InTouch magazine that he's had about enough of the single life. "I'd really like to be in a relationship," the 50-year-old said. His last notable relationship was with Pilates teacher Leah Marsh, notes InTouch, whom he dated for three years before breaking it off in 2010.