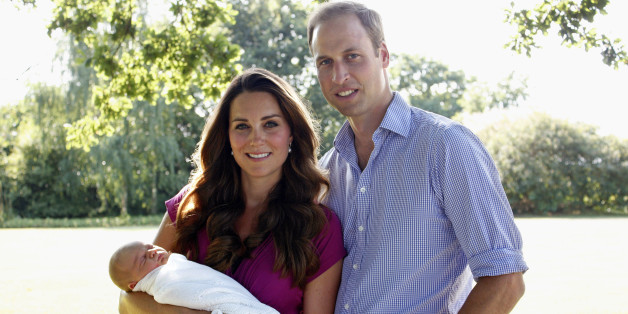 Prince George, Britain's future king, will be christened on Wednesday, October 23rd, and a Christian media organization is giving all Christians the chance to wish him well in a giant card that already has over 4,450 signatures.
The little prince is just three months old, but he's made his way into the hearts of thousands of Brits of all faiths, necessitating the enormous card which stands taller than a typical adult.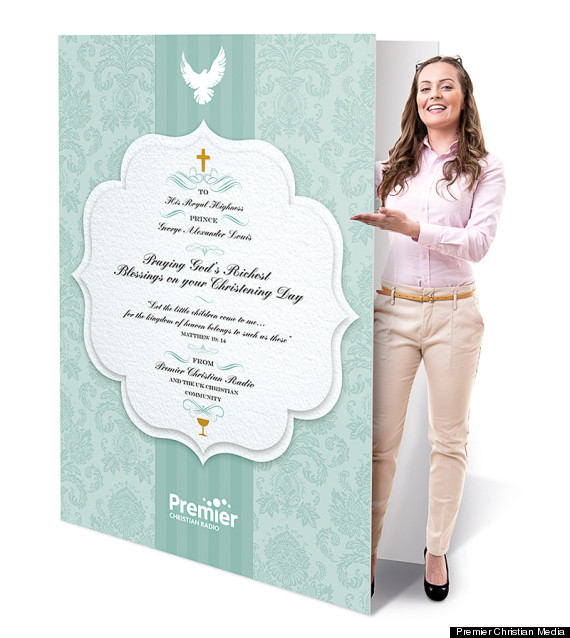 God of Life, we rejoice in the gift of a son to the Duke and Duchess of Cambridge. We give thanks that by bringing their child to be christened they have responded to Your love and to the grace of Your only Son, Jesus Christ.

We pray for William and Catherine as they love and care for George Alexander Louis. Help and equip them as parents, especially as they make solemn promises before You to nurture their son in the Christian faith. May the public nature of their lives and responsibilities not hinder them in being a good example through their words, prayers, and deeds.

King of Kings, strengthen this family by Your Holy Spirit, that they may use the privileges, opportunities, and challenges that come with their national roles, for the good of all and as a witness to Your Light. We pray through Jesus Christ our Lord, and for the sake of Your kingdom of love and peace.

Amen
Revd Tony Miles
In religious terms, the christening will be one of the biggest moments of Prince George's young life. The Archbishop of Canterbury, the Rev. Justin Welby, will perform the christening, which typically takes place three-to-six months after birth. Prince William's christening was held in the Music Room at Buckingham Palace, while the christening for his brother, Prince Harry, was held at St. George's Chapel in Windsor Castle. Prince George will be christened in the Chapel Royal at St. James's Palace.
"Christen is a term we use that's similar to baptism. In other words, the child will be initiated as a Christian through a ceremony which goes back in time to when Jesus was baptized by John the Baptist in the River Jordan. We conceive it as entering into Christ," Rev. John Hall earlier told the Huffington Post. The dean of Westminster Abbey, where the royal couple married, Rev. Hall continued, "It's not a matter of washing but a matter of dying into ourselves and rising into Christ. We go into the water's baptism and come up as a new creation in Christ. We become a member of the body of Christ of the church."
Though Prince George is being raised in the Christian faith, the royal family has become more interfaith-oriented in the past few years. Little George's grandfather, Prince Charles, has announced his intention to make a symbolic change in the reigning monarch's traditional title, the "Defender of the Faith." To reflect Britain's multicultural and multifaith society, he intends to be known as "Defender of Faith," or "Defender of the Faiths" as an inclusive gesture.
If Charles does indeed change the title, Prince George will most likely grow up one day to be the third "Defender of Faith" in Britain who will protect and serve all religious groups.
BEFORE YOU GO
PHOTO GALLERY
William and Kate announce their new son