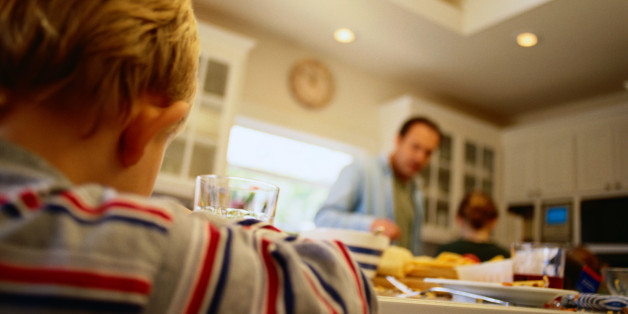 A new study published Monday in the journal Pediatrics concludes that spanking as a form of parental punishment can do far more harm than good. Conducted via a nationally representative pool of 1,933 parents, the study asked mothers and fathers about their spanking habits when their children were 3 years old and again two years later. The children were then tested when they turned 9 and were asked questions meant to gauge language skills and aggressive behavior.
The study's authors found that a large number of parents still regularly spank their children: 57 percent of mothers and 40 percent of fathers said they spanked their 3-year-olds.
At the same time, the study found that spanking had long-term negative effects on children's behavior and language skill development:
Maternal spanking at age 5, even at low levels, was associated with higher levels of child externalizing behavior at age 9, even after an array of risks and earlier child behavior were controlled for. Father's high-frequency spanking at age 5 was associated with lower child receptive vocabulary scores at age 9.
The effects of spanking, according to lead study author Michael J. MacKenzie, are both wider-ranging and longer-lasting than some parents may assume. These effects may even get worse the more a child is spanked.
"We found there were impacts not just on the behavioral development that folks normally look at, but also on markers of cognitive development, like the verbal capacity of the child," MacKenzie, an associate professor at the Columbia University School of Social Work in New York, told HealthDay. "These effects are long-lasting. They aren't just short-term problems that wash out over time. And the effects were stronger for those who were spanked more than twice a week."
The study's results did not surprise researcher Elizabeth Gershoff, a developmental psychologist with the University of Texas at Austin who studies how parenting and discipline affect children's development.
"There's just no evidence that spanking is good for kids," Gershoff, who wasn't involved in the study, told Reuters Health. "Spanking models aggression as a way of solving problems, that you can hit people and get what you want."
But if so much of the science is in agreement, why do approximately half of all parents continue to use corporal punishment as a form of corrective discipline?
"I think this finding ... surprises people who have used spanking because they tend to focus on results they can see right away, that spanking might get their child to stop doing what they are doing in the moment," Catherine Taylor, an associate professor of global community health and behavioral sciences at Tulane University, told HealthDay.
Study author MacKenzie agrees.
"Spanking does make the kid stop," he told The New York Times. "It gives the immediate feedback that it's working. But the goal is to have kids regulate themselves over time. And in that, spanking fails."