We don't know about you, but when we play sports, we never, ever look like this: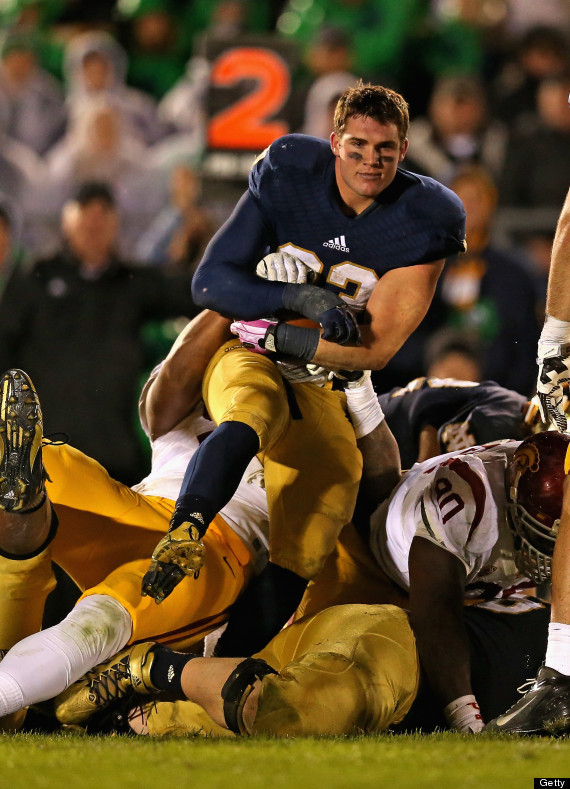 That's Cam McDaniel. He's a running back for the University of Notre Dame and yes, somehow, despite being pulled (helmetless!) into a dog pile during an Oct. 19 game against the University of Southern California, he looks like a movie star -- all smoldering eyes and charming half-smiles.
The Internet, so far, seems to have fallen for him.
Do you ever look at Cam McDaniel and think that that is the closest you'll ever come to a personal gift from God?

— Casey E. (@easleyas123) October 20, 2013
I'm with @chappysnacks This pic of Cam McDaniel is like Jesus riding a Harley thru ring of fire. pic.twitter.com/UJcCCuDbM8

— John Walters (@jdubs88) October 22, 2013
Cam McDaniel is really handsome at football. http://t.co/sgYh3MLfLz pic.twitter.com/6mtem1oIna

— Meredith Frost (@MeredithFrost) October 23, 2013
Having already inspired a meme of his own, it looks like the newly minted Ridiculously Photogenic Running Back is going to give Ridiculously Photogenic Marathon Guy and Ridiculously Photogenic Jiu Jitsu Guy a run for their money.
We sure hope McDaniel is ready for Internet superstardom.
BEFORE YOU GO
PHOTO GALLERY
Best Memes Of 2012