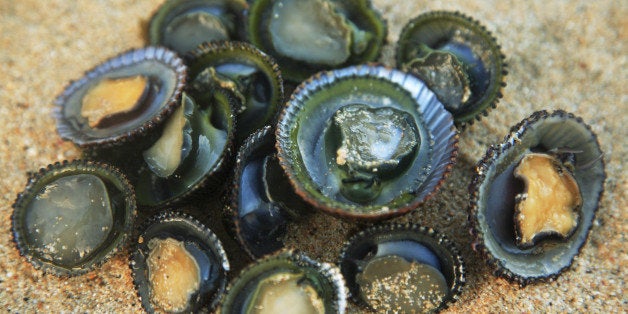 The lives of fishermen have been washed away as they tried to pry opihi from rocks in rough waves. It is why the shellfish has been dubbed the "fish of death."
But ultimately, the fishermen have been so successful in harvesting the small conic opihi that some experts fear for the shellfish.
It led them to the question: What can be done to make sure the "fish of death" survives?
Researchers have developed an android app that will help them track the population of opihi, the popular shellfish delicacy in Hawaii, to measure — and hopefully help prevent — over-harvesting. The app uses GPS technology to count the number of opihi and record their species and location.
The biologist and developer of the app is Dr. Chris Bird, a researcher and assistant professor in the college of science and engineering at Texas A&M University Corpus Christi. He has been surveying the opihi for years and concluded that the methods available weren't adequate to monitor large amounts of coastline at the same time.
Members of the Opihi Partnership, an initiative that was launched by The Nature Conservancy of Hawaii, and Bird believe that the number of opihi on the islands have declined dramatically. The partnership includes Hawaiian culturalists, government agencies and scientists who hope to monitor the opihi over time, through the app, to see how they are doing.
"We're trying to facilitate sustainable harvesting," Bird said. "We need to protect the breeding areas where they produce the next generation."
The app will be used to help measure how easily accessible the shellfish is to humans.
Opihi are part of a large category of sea snails called limpets, which are characterized by cone-shaped shells. While limpets can be found all over the world, the species that live in Hawaii can only be found here. They grip on to the rocks in the most violent areas where surf crashes on them. There, they play an active part in the ecosystem, helping to stabilize the growth of algae.
The shellfish also has an ancient history. Hawaiians once subsisted partly on them and used them in many ways, including for fertilizer, as jewelry and to scrape taro.
Bird, who has done development in the past for palm pilots, decided that technology had gotten to the point where GPS tracking and android technology could be useful for his field of work.
"As we count opihi, we enter the number into the app. The app pinpoints our location with GPS and tracks what we found and where we found it," said Bird. "This will be used to help scientists assess how opihi populations vary over time, and measure their genetic diversity."
In 2008 when Bird was doing this work with less advanced technology, surveying one or two kilometers of coastline took a whole day. With the app, he said, he can survey seven kilometers of coastline in the same amount of time.
Bird and his team used the app this summer in parts of the federally protected Papahanaumokuakea Marine National Monument. The monument area is around 140,000 square miles of reefs and atolls, as well as shallow and deep seas (out to 50 miles — or 80 km — offshore) in the Pacific Ocean, an area about the size of Germany, and covering all the Hawaiian islands.
"We need to work out the kinks of the app," said Bird, before it will be shared for free with the public, likely by next summer, so that anyone who wants to help with the opihi tracking project can do so. (No iPhone app is in the works.)
For years, Sen. Clayton Hee has spearheaded legislative attempts to regulate and even ban the harvesting of opihi to let them repopulate. His first bill, in 2006, made it to Gov. Linda Lingle's desk. She promptly vetoed it, arguing there was no evidence that a ban was necessary.
Hee strongly disagrees and said that his bill was based on the best science available.
The senator said that opihi harvesters from Kauai are now traveling to Niihau to get the shellfish, due to over harvesting at home. "The people on Niihau, Native Hawaiian speakers, do not have stores where they can buy goods and services, as opposed to every other island. The reef areas are their icebox. The situation is such that the state has been negligent in taking care of its natural resources. Opihi is but one species that has been over harvested, to the point that people are going to other islands like predators and taking opihi. It's very unfortunate and preventable," Hee said.
The State Department of Land and Natural Resources has the authority to make administrative rules, Hee notes, but it has chosen not to do so. "That's part of the reason the situation with opihi is as it is. It's not necessary to pass a law," the senator explained. "They don't need to wait for lawmakers. They can do it themselves."
A measure that Hee co-sponsored in 2012 — with the support of Bird, Dr. Robert Toonen at the University of Hawaii and the Department of Land and Natural Resources — would have set bag limits, mandated seasonal closures in certain areas and banned opihi harvesting on Oahu for five years. The goal was to put a new management strategy in place with input from scientists and that was still sensitive to Hawaiian culture and fishermen.
But since so many people collect opihi, the main problem is that they don't have a chance to grow up. "There aren't enough reproductive pockets that are protected," Bird said.
The bill failed to pass again last year, but Hee has vowed not to give up. "Next year I will re-introduce the opihi bill that was vetoed by Linda Lingle. Hopefully we'll get this measure passed, with the idea in mind that citizens from bigger islands won't go to smaller islands and take their natural resources."
Hawaiian Culture

While it is perfectly legal for fisherman to go to other islands, Hee asserts that it is totally immoral and contrary to Hawaiian culture. "The Hawaiians taught that you take care of the natural resources and the natural resources will take care of you. That is totally out the door today. It is now based on greed and profit, the philosophy of if I won't take it, someone else will."
Despite the passion of people like Hee and Dr. Bird, some people dispute the idea that there is over-harvesting problem, and they argue that the app will only worsen the any possible opihi problem. "If you tell people where the opihi are, they're gonna go get it. You did the work for them. They're just gonna go straight to that place," said Guy Takashiro, who runs a popular fish market in Kalihi.
But that doesn't mean that Takashiro is worried for the shellfish. "I can always get as much opihi as I need. I'm rarely short. There's really not a shortage," he insisted.
Hee counters that if this were true, fisherman on Kauai would not have to go to Niihau for their opihi.
In addition, the price of opihi has skyrocketed to a price of around $40 a pound at Honolulu fish markets.
Bird and Hee said over-harvesting is the cause.
The dangers associated with harvesting the "fish of death" is another reason why the senator feels it is important to regulate opihi fishing. When areas, especially on Oahu, are over harvested, people go further and further out to get the opihi, and the waves are too unpredictable.
Takashiro agreed that it is dangerous, but said that commercial pickers tend to take more suitable precautions. "One of my suppliers has people spotting waves while the other people are picking," he said.
Individuals are undoubtedly less likely to be as careful.
That can lead, even now, to the "fish of death" being the death of them. Or vice versa.
BEFORE YOU GO
PHOTO GALLERY
Amazing Sea Creatures