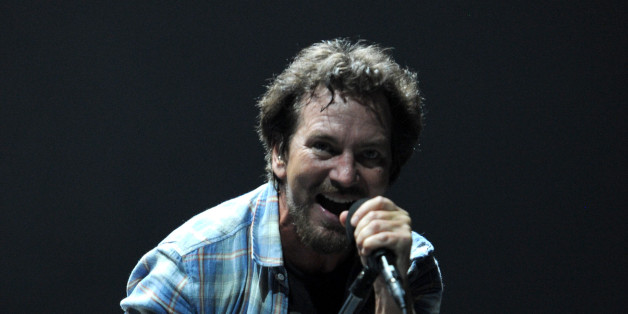 Pearl Jam's "Lightning Bolt," the band's 10th studio album, topped the Billboard 200 after selling 166,000 copies in its first week. That makes "Lightning Bolt" Pearl Jam's fifth No. 1 record, following "Backspacer" (2009), "No Code" (1996), "Vitalogy" (1994) and "Vs." (1993).
Not that the sales figures for "Lightning Bolt" were on the level of "Vs.," the band's sophomore album, or even "Backspacer": According to Billboard, "Lightning Bolt" sold 23,000 fewer copies than "Backspacer," the last Pearl Jam studio album to hit stores. That makes "Lightning Bolt" the group's lowest-selling debut record, a far cry from when 1.3 million copies of "Vs." were snatched off record-store shelves during the album's first two weeks of release.
On the plus side, "Lightning Bolt" enjoyed the biggest rock debut since Phillip Phillips' album was released last November.
"You can look at it another way, that when rock does get in the mainstream, it tends to get watered down and co-opted rather quickly," Vedder told HuffPost Entertainment when asked about the lack of interest in modern rock music. "If things are cyclical, and some people might look at rock as being on the downside, that probably means that it can retain some purity that maybe wouldn't be there otherwise."
For the full Billboard sales results, check out Billboard.com.
[via Billboard]
PHOTO GALLERY
Pearl Jam Photos