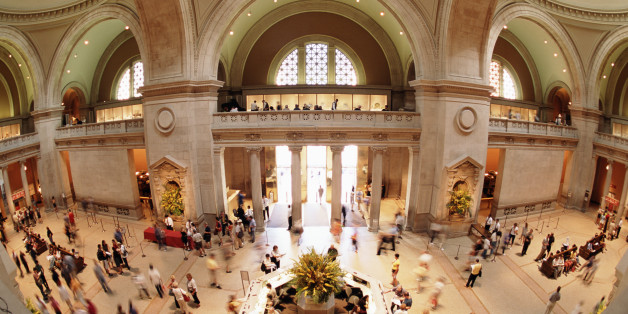 The Metropolitan Museum of Art released a statement today, announcing a formal amendment to its 1878 lease with the City of New York. And yes, it revolves around the sketchy admission policy.
The museum maintained the legality of its contentious and decidedly ambiguous discretionary admission (Is it suggested? Recommended? Strongly recommended?) and its resolve to continue said policy into the future. In the words of Gothamist, it's kosher!
The Met has ruffled quite a few feathers with its $25 suggested donation entrance fee, in which the suggested part is often underplayed. The coy maneuver has thus far led to two lawsuits and a bizarre Groupon gaffe.
Yet The Met maintains its position that the recommended donation is fully legitimate, and is in fact the result of a 42-year-long lease agreement between the Met and the City, a lease which has now been formally amended.
"The new lease amendment acknowledges that by 1970, municipal funding, once the major source of revenue to operate the Metropolitan's City-owned building, was 'no longer sufficient to allow the Museum to operate without charging admission fees."
So despite accounts that the Met survives off investors and barely needs admissions fees, it seems like that feeling in your gut that drives you to support the beloved cultural institution is on target.
The real kicker, however, came when the Met announced its ability to change admission policies if need be.
"The new amendment authorizes the museum, should the need arise, to consider a range of admission modifications in future years, subject as in the past to review and approval by the City."
Museum hours, rates, group tours, educational programs, performances could all undergo changes depending on the financial state of the museum in the future. Just when we were starting to understand their current policy!
Yet according to Met representative Harold Holzer, hopefully this day will never come. "Our aspiration is not to change museum policy," he told the Huffington Post in a phone call. "Our goal is access. Our goal is keeping admission open to as many people as possible."
"This is not the beginning of a new policy," he continued. "If, in some wild scenario, the lawsuit is successful and the law requires the Met repay people for admission for the last 40 years, I think we'd have to reconsider how we could keep our doors open."