Staff at a Kansas City restaurant were very, very happy over the weekend, thanks to the tremendous generosity of NFL player Tamba Hali.
According to area news outlet KCTV, the Kansas City Chiefs linebacker left an extra $1,000 tip at Brazilian steakhouse Fogo de Chao after having a meal with his family and friends there Sunday.
(Story continues below.)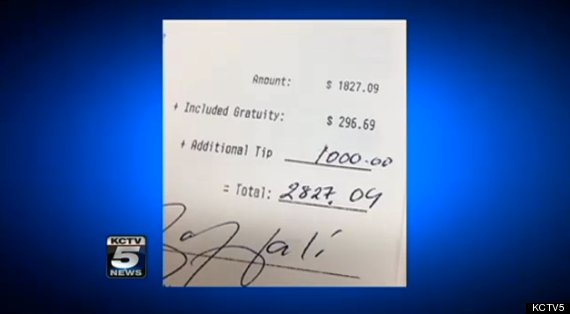 Hali, who had played a critical role in the Chiefs' win against the Houston Texans that afternoon, is said to be embarrassed by all the attention his hefty tip has attracted. The 29-year-old told KCTV that he merely wanted to give a helping hand to those around them.
"I have been helped all my life to this point. ... I can give back [and] I try to do that," he said. "I do this all the time when I go out because these people work hard. I'm just fortunate to be in this position."
Though some celebrities have earned the reputation of being terrible tippers, there are many others who, like Hali, have shelled out unexpectedly huge tips in the past.
In July, singer Taylor Swift made headlines for leaving a $500 tip at a Philadelphia restaurant, and actor Johnny Depp dropped jaws in 2009 when he left a $4,000 tip for a waiter at a Chicago establishment.
BEFORE YOU GO
PHOTO GALLERY
Random Acts Of Kindness