It was quite impossible to escape news this week of Kim Kardashian and Kanye West's engagement. Everywhere you looked, media outlets covered everything from the proposal caught on video, to the jubilant tweets sent out by the pair's family and friends, to Kim's gigantic ring. But if you, like some of us here at HuffPost Celebrity, are clueless as to what a 15-carat (D-stone, type 2A cushion cut) diamond means, we're here to give you some perspective.
In 2011, The Wedding Report stated that the average diamond engagement ring carat weight is 1.18, per Glamour magazine. Yahoo Finance estimated the average ring to be 1 carat for the center stone and 1.4 carats in total stones, according to the XO Group Inc. 2011 Engagement Engagement & Jewelry Survey. Lauren Conrad, for instance, recently got engaged with a 2-carat diamond, reports E! News, further cementing her status as that-girl-who's-almost-like-you-but-way-better.
This means that Kim's new bauble is roughly 10.7 to 15 times larger than the average American woman's stone (Kardashian's previous ring from ex-husband Kris Humprhries was 20 carats, just as an FYI).
Though it's not surprising to learn celebrities can afford way more than we common folk, let's put this into further perspective.
According to YourTango, Crystal Harris' ring from Hugh Hefner was 3.39 carats; Paris Hilton's engagement ring from Paris Latsis was 24 carats; and Richard Burton gifted Elizabeth Taylor with both a 33.19-carat diamond ring and another 69.2-carat gem (pictured below).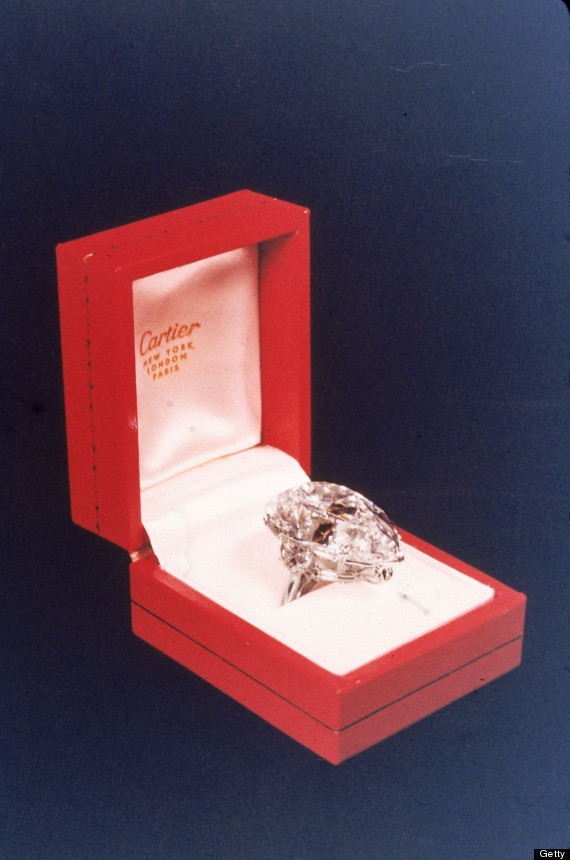 Jennifer Aniston's engagement ring from Justin Theroux is estimated at 8 carats, according to Us Weekly, while the jewel her ex-husband Brad Pitt gave Angelina Jolie is 16 carats (though other reports put it at 10 carats).
According to InStyle, Fergie's ring from Josh Duhamel is 4 carats, as is Reese Witherspoon's ring from Jim Toth; Jessica Simpson got a 5-carat stunner from Eric Johnson; Jerry O'Connell proposed to Rebecca Romijn with a 6-carat diamond; and Mariah Carey's ring from Nick Cannon is 10.02 carats.
So next time you overhear Kimye engagement chatter, confidently chime in. Say the reality star does the average girl 15 times over, but she's still no Elizabeth Taylor.
BEFORE YOU GO
PHOTO GALLERY
Engaged Celebrities