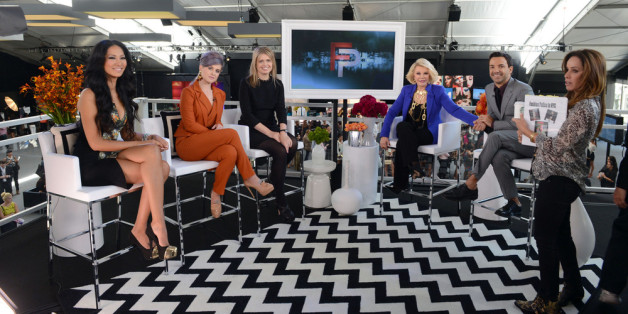 Leave it to the hilariously snarky bunch of "Fashion Police" to make the most out of Halloween. Kelly Osbourne posted the following photo of the gang's brilliant costumes, all predictably celebrity-themed.
"@E_fashionpolice #halloween special me as #christinahendricks @giulianarancic as #Sofiavergara @georgekotsi as #Lenadunham @joanrivers as #Miley and @Melrivers as #giuliana," Osbourne captioned, explaining that she had dressed up as Christina Hendricks, Giuliana Rancic dressed as Sofia Vergara, George Kotsiopoulos dressed as Lena Dunham (our fave!), Joan Rivers dressed as fat Miley Cyrus, and Melissa Rivers dressed as Giuliana Rancic.
The 28-year-old then posted a photo of herself solo, looking like the "Mad Men" bombshell. "What do you guys think? @csiriano made me the exact same dress he made the #stunning #ChristinaHendricks for the #emmys so I could dress up as her for our @E_FashionPolice #halloween episode!," she wrote. "I hope I did here justice!! ps I had to wear 3 bras!!"
BEFORE YOU GO
PHOTO GALLERY
Celebrities In Halloween Costumes