Miley Cyrus is speaking out against her haters ... again.
The 20-year-old superstar opens up to Cosmopolitan's December issue, admitting that she sees herself as "kind of an underdog."
"Everything is so chaotic and crazy right now and it's so much all at once, but I'm living for it. I'm just having the best time ever and everything's falling into place like it's supposed to," Cyrus tells the magazine. "Even people who want to hate on me, they can't even shut down the fact that I'm literally what everyone is talking about."
"I don't want to say that I'm on top right now -– I feel like I'm kind of an underdog in a cool way," she continues, adding her two cents about society's view on her. "It's almost punk rock to like me because it's not the right thing to do. Like, society wants to shut me down."
Cyrus has been making headlines over the last few months thanks to her risque performances, NSFW music videos and out-there apparel. She also recently ended her engagement to longtime boyfriend, Liam Hemsworth, which didn't come as a surprise to many.
Still, the "Wrecking Ball" singer says she's putting all of her energy into her music and not dwelling on the breakup.
"I need to treat my music like a relationship -– give it my time and all the attention it deserves -– and that's my main love right now," she explains. "This is the best time of my life. I'm not going to look back on it and be like, 'I wish I hadn't been dwelling over a breakup,' you know? Because that's not what God wants my life to be about right now. God wants my life to be about being successful and being happy and blessing other people and being blessed."
See Miley's Cosmo cover below and pick up the December issue, on newsstands November 5: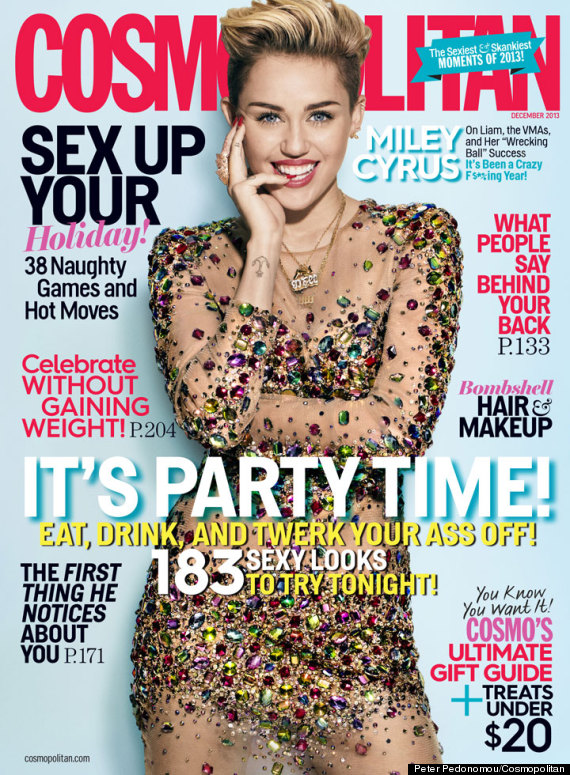 BEFORE YOU GO
PHOTO GALLERY
Miley Cyrus' Transformation