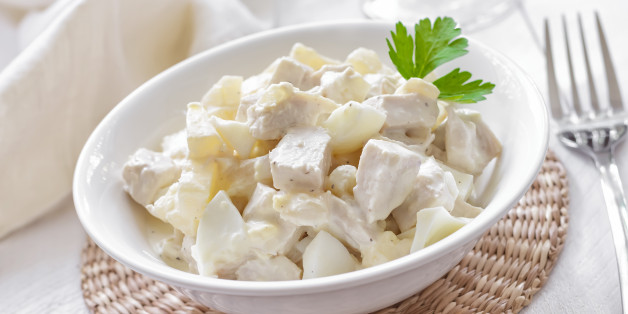 Boston Salads and Prepared Foods is voluntarily recalling certain packages of its prepared salads because of potential listeria contamination.
The Associated Press reported that 223,000 pounds of certain chicken salads, and 80,000 pounds of certain seafood and shrimp, seafood, shrimp and tuna salads were recalled.
The salads were distributed in five states -- Massachusetts, Rhode Island, Vermont, Maine and Connecticut -- and had Rachael's Gourmet, Dietz and Watson, and Boston Salads labels on them, according to a Food and Drug Administration press release.
Not all of the salads are affected by the recall, only ones with certain sell-by dates. You can see which packages are included here.
According to the FDA, no illnesses linked with the salads have been reported. However, infection with Listeria monocytogenes -- which causes listeriosis -- can be serious for certain people with compromised immune systems, pregnant women, older adults and newborns, the Centers for Disease Control and Prevention reported. Symptoms of infection usually include muscle aches and fever, as well as diarrhea.
A recent CDC report released in June of this year showed that there were 1,651 cases of invasive listeriosis between 2009 and 2011, with more than half occurring in people age 65 and older, and 14 percent occurring in pregnant women. Of the 12 outbreaks during that time period, 10 had to do with food. Six of those food-related outbreaks involved cheese, one involved pre-cut celery (in chicken salad) and one involved cantaloupe.
Just last week, Oregon-based Reser's Fine Foods recalled 109,000 cases of coleslaw, potato salad and pimento spread, among other packaged food items, because of potential listeria contamination, the Associated Press reported. That recall has prompted federal officials to watch for illnesses linked with the products. Taylor Farms also recalled broccoli salad and slaw last week due to potential listeria contamination.