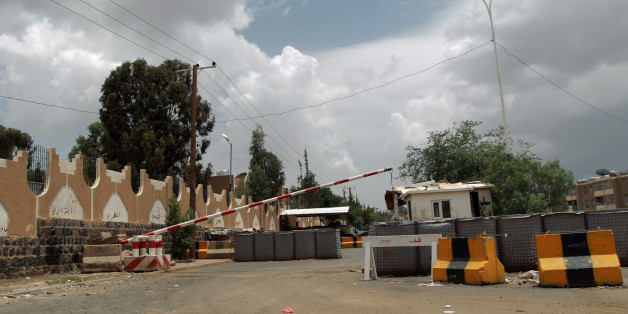 The Associated Press reports Yemeni officials have cited an explosion and gunfire outside the U.S. embassy in Yemen:
BREAKING: Yemeni security officials say large explosion, heavy gunfire near US Embassy in capital Sanaa

— The Associated Press (@AP) October 28, 2013
More from AP:
SANAA, Yemen (AP) — Security officials and residents of Yemen's capital say that a large explosion followed by heavy gunfire have been heard near the U.S. Embassy.

They did not know how close the blast was to the embassy. The officials spoke anonymously as they were not allowed to talk to media.

Yemen is fighting a war against al-Qaida's local branch, considered by Washington to be one of the world's most dangerous offshoots of the terror network.
UPDATE [6:59 p.m. ET]: AP reports that the explosion may have been the sound of fireworks:
ADEN, Yemen (AP) — Yemeni security officials said that an explosion followed by what sounded like heavy gunfire had been heard near the U.S. Embassy in the capital Sanaa late Monday, but government spokesmen later said that the blast was fireworks from a wedding procession.

The State Department also issued a statement saying it had no indication that reports an attack on or near the U.S. Embassy in Yemen were accurate.
Read more here from AP.
BEFORE YOU GO
PHOTO GALLERY
Yemen Protests