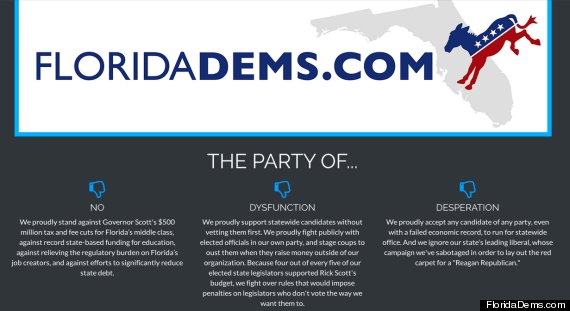 Something is amiss online: The 'Contribute' link at FloridaDems.com directs visitors to the Republican Party of Florida's fundraising page -- and for good reason. The state GOP bought the domain to launch a web site mocking Charlie Crist et al.
The RPOF announced the mock web site via press release just days before the Florida Democratic Party convention this weekend.
The fact that the domain name -- which is very close to the party's actual web site at FloridaDems.org -- was even available for purchase is proof of the party's "incompetence," "dysfunction," and "disarray," according to RPOF Chairman Lenny Curry.
Meanwhile state democrats hold that the online mockery is just another attempt to pull attention away from Governor Rick Scott's low approval ratings, series of controversies, and his team's questionable tactics like doctoring a newspaper front page.
The official-looking FloridaDems.com will no doubt trick visitors on first glance. But the site's satirical content will soon tip them off.
"We proudly support statewide candidates without vetting them first," reads the home page. "We proudly accept any candidate of any party, even with a failed economic record, to run for statewide office."
It also touts an "agenda" that is against education and jobs.
BEFORE YOU GO
PHOTO GALLERY
Rick Scott Controversies