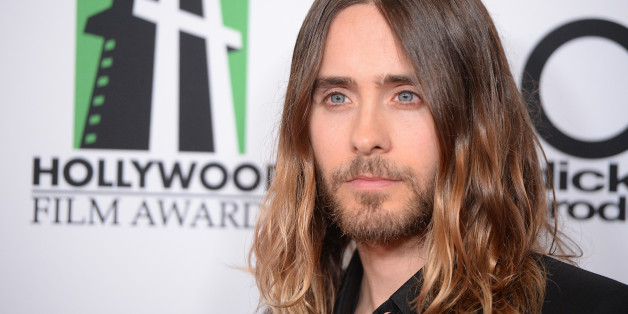 "I was in character as much as humanly possible," Jared Leto proclaimed, discussing how he approached his performance as Rayon, a transgender woman with AIDS who struggles with substance abuse in the new film "Dallas Buyers Club," a role that is bringing him critical raves and Oscar chatter. "I stayed as close to Rayon as I could. There was too much to lose. I couldn't imagine the director calls, 'Action!' and I have to recall all of these things -- from the voice to the dialect to the circumstances and emotional conditions. There was just too much there."
Though Rayon is a fictional character, the film -- set in the '80s -- is based on the true story of Ron Woodruff, played by Matthew McConaughey in an equally heralded performance. He's a heterosexual Texas electrician who learns he has HIV and battles not just the disease but his own rancid homophobia and transphobia. In the film, that's particularly evident after he first meets Rayon, when they share a hospital room. Eventually, they organize a buyers club to bring unapproved treatments for AIDS into the country at a time when the government and pharmaceutical companies are only peddling the toxic AZT.
"When you wax your eyebrows and lose 40 pounds it's hard to escape the physical side of that," Leto said, speaking with me on SiriusXM Progress, about living as Rayon when he wasn't on set. He explained that it gave him a very brief glimpse of the ignorance and outright hate that many transgender people often experience.
Jared Leto On Preparing For The Role Of Rayon:

"There was one day where I had a couple of hours off, which was rare, because we were always shooting -- we shot the film in 25 days, no lighting at all, no rehearsal," Leto said. "I went to Whole Foods and I remember getting three distinct looks. One was, 'Who is that?' The second was, 'What is that?' And the third was, 'I don't know what that is, but I don't like it.' And it was interesting to get that condemnation. Easy for me, because I'm playing a part, but it was important to kind of understand and acknowledge that."
In the film, Rayon is referred to as "he" and "him," and the word "transgender," which was not in common usage at the time, is not used. But Leto described Rayon as someone who lived "as a woman, not as someone who just enjoyed putting on women's clothing." Another actor, he said, might have played Rayon "as a drag queen or a transvestite," but he saw the character differently.
"Someone asked me last night at a screening, 'Why did they refer to her as "him," and not "she?" And I just responded, 'Because it was 1985,'" he explained. "It wasn't a very common term, 'transgender.' But I certainly saw her as someone who, if she was living now, would identify with that term."
Though he'd not made a film in six years, focused on his music career and touring the world with his band, Thirty Seconds to Mars, Leto couldn't turn down the role.
"I read the script after trying to avoid it for a couple of weeks," he recalled. "I fell in love with the role, with Rayon. She's easy to love, full of grace and charm. I thought it was the most amazing opportunity and I couldn't say no."
Researching the part included meeting with transgender people and learning "what it was like to tell your parents, what it was like to transition, what it was like to live your life as you dream it" He studied up on the early years of the AIDS epidemic, too. For that he also drew upon personal experience, having had a roommate who died of the disease.
Leto On His Former Roommate's Inspiration:

"When I first moved to Los Angeles, I rented a room in a three-bedroom house and one of the rooms was rented by a man in his 40s who was dying of AIDS," Leto said. "This was 1991. I watched week after week as he withered away and got sicker and sicker. I remember walking with him to the grocery store and he would get vegetables to put in the blender in an attempt to stay healthy. He was a wonderful person. Very kind and funny and a great sense of levity. A lot like Rayon."
Leto, who's toured Russia with Thirty Seconds to Mars (which released a new album earlier this year, "Love, Lust, Faith + Dreams"), also addressed the controversy over Russia's law banning gay propaganda and the debate about whether artists should boycott the country. Cher refused to perform at the Winter Olympics in Sochi next year because of the Russian law, while Elton John announced he's "got to go" to Russia, saying he could better change minds by performing there.
Leto On Living As Rayon:

"I'm not so sure what the role is for us as entertainers," Leto commented. "I'm not so sure. You can also take advantage of the opportunity to stand on stage and to make a statement to the people that are there, and who want to celebrate and may be affected by the stupid laws in place."
BEFORE YOU GO
PHOTO GALLERY
15 Things To Know About Being Transgender By Nicholas M. Teich