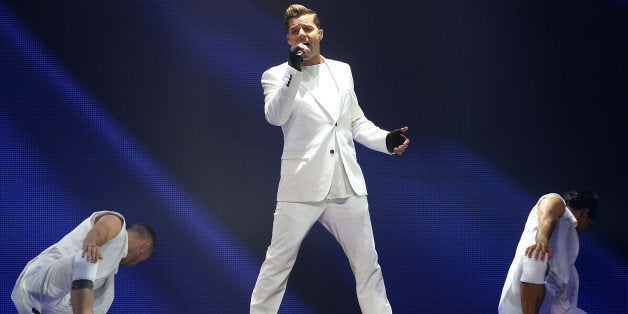 This summer he released "Come With Me," his first single off his upcoming tenth studio album that will be released by Sony Music Entertainment later this year.
Not only is he the father of two beautiful boys, but he has somehow managed to find time for a concert tour in Australia. Martin is a coach on the the hit show "The Voice Australia" and hasn't toured around the country in over 10 years.
"I am so excited to bring my music back to the stage again and see all of my loving and loyal Aussie fans up close. I am looking forward to playing some new material, some of the classics and a few surprises," said Martin in a statement.
His Australian tour kicked off on October 5 at the Rod Laver Arena in Melbourne. He had the chance to perform in Adelaide, Perth, and Brisbane, finishing off the tour on at the Allphones Arena in Sydney.
"[Martin] didn't disappoint and turned Rod Laver Arena into one big party. …He had almost every audience member on their feet, waving their hands in the air and cheering" stated News.com, an Australian news site.
Ricky Martin's first children's book 'Santiago the Dreamer'
Apart from a successful tour around the land down under, Ricky Martin will release his first ever children's book on November 12.
"Santiago the Dreamer in 'Land Among the Stars,'" is about finding strength in a parent's unconditional love and following your dreams regardless of what they may be. Santiago, the main character of the book, has a dream to perform on stage. But after not landing the lead role in his school play, he loses hope in himself and ends up becoming inspired by his father. With passion and dedication, Santiago gains faith and learns that anything is attainable as long as you just believe.
This will be his second book. Martin was named a New York Times bestselling author for his memoir "Me," released in 2011.
After the birth of his five-year-old twins, Matteo and Valentino, in 2008, the 41-year-old's passion and aspirations have grown. He is so grateful for his boys he told Vanity Fair, "I would give my life for the woman who helped me bring my sons into this world."
Ricky Martin and his Puerto Rican boyfriend Carlos González Abella couldn't be happier or feel more blessed with their children. In a recent interview with Ellen DeGeneres, Martin shared that his boys are trilingual, speaking Spanish in the house, English because they live in America, and French because they attend a French school.
"Definitely not right now – I'm finally diaper-free, which is a relief. But I would like a little girl," Martin said in 2011.
BEFORE YOU GO
PHOTO GALLERY
Ricky Martin's Early Years