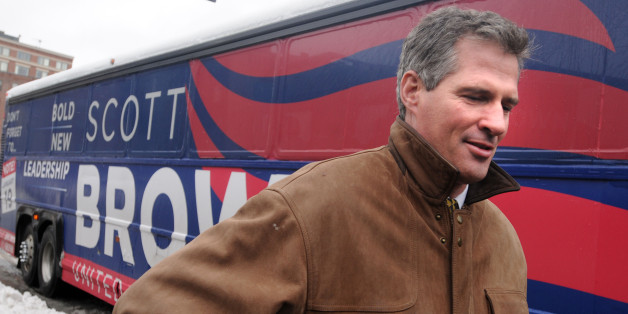 If you cast your mind back a few years, you might remember that, briefly, Scott Brown was sort of a thing.
Most notably, Brown became the GOP senator who ended the Democrats' seven-month Senate super-majority when he defeated Massachusetts Attorney General Martha Coakley in a special election to fill the seat of the late Ted Kennedy. Brown subsequently lost his reelection bid to Elizabeth Warren, and the title of "the Next Scott Brown" was officially conferred upon Gabriel Gomez, who lost his Massachusetts Senate bid to Ed Markey.
Since then, Brown has been a contributor to Fox News, playing the role of "the guy who re-summarizes what one of the other Republicans on the Fox News Sunday panel just said." He also briefly teased about his interest in running for the Massachusetts statehouse, before putting the kibosh on that idea. Lately, however, Brown has been flirting with the idea of being the next "Next Scott Brown," only this time the "Next Scott Brown" will be from New Hampshire instead of Massachusetts.
And so he's selling his house in Wrentham, Mass., and has set himself to the task of getting all up in the Granite State's grill. What's the next step? According to the Concord Monitor, it's setting up a New Hampshire-based political action committee:
The former Massachusetts senator has been a frequent visitor to New Hampshire in recent months, headlining Republican fundraisers and stoking speculation he might switch states and run against Sen. Jeanne Shaheen in 2014 -- a possibility he's pointedly declined to rule out.

The latest (possible) clue: On Oct. 11, Scott filed paperwork with the secretary of state's office registering The People's Seat PAC Inc. as a New Hampshire political committee.

The People's Seat PAC is the new name for Brown's old U.S. Senate campaign committee, and it had $187,000 on hand as of Sept. 30, according to the Federal Election Commission.

The New Hampshire filing listed the PAC's purpose as "to back strong, dedicated candidates, and continue efforts to bring reform to government." It indicated it would spend money in the 2014 state primary and general elections, but didn't list any specific candidates.
For Brown, setting up a PAC makes a lot of sense, because in terms of hooking up with influential political marchers in New Hampshire, a PAC is the political equivalent of Tinder. And getting to know the who's who of the New Hampshire GOP serves a dual purpose: Brown positions himself for a potential Senate run against Shaheen (polls conducted by PPP suggest he'd be a strong contender), and it keeps alive his presidential ambitions. Oh sorry, I should have mentioned -- Brown appears to have presidential ambitions. Who knew?
As Politico reports, Brown apparently chose "People's Seat PAC" because he once responded to the suggestion that he was running for "Ted Kennedy's seat" with the statement, "With all due respect, it's not the Kennedy seat and it's not the Democrats' seat, it's the people's seat." That phrase, "the people's seat," became "the Next Scott Brown" of phrases associated with his political career.
This means that "Bqhatevwr PAC" is still available, if you want it.
[Would you like to follow me on Twitter? Because why not?]
BEFORE YOU GO
PHOTO GALLERY
Obama's Government Shutdown Stares