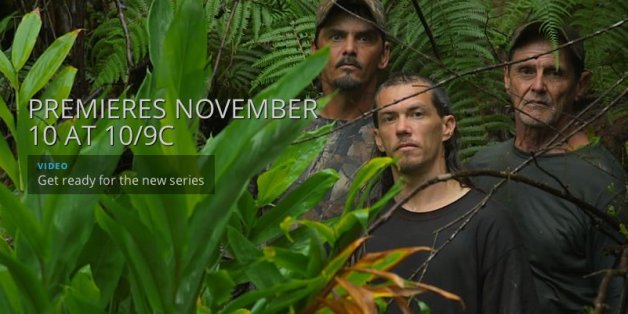 Hawaii is getting its own reality show and if you're used to Hollywood's mai tai sipping, lei-wearing version of the island paradise, you're in for a surprise.
The History Channel's newest show "American Jungle", follows the lives of eight hunting "clans" from Hawaii's Big Island who live completely off the land and off the grid. Turf wars ensue as each clan boasts its own special ties to the sacred hunting trails. Some clans date their bloodlines back to Hawaiian royalty while others engage in a more spiritual connection, like drinking the blood of their hunted kill.
The eight episode series takes place during the island's two-month hunting season. The island hunters pursue their prey with knives and spears, taking down feral bulls, wild boars and other island game.
The show's website promises a high strung drama set in thousands of acres of untamed tropical jungle, where "survival depends on allegiance to family, and power belongs to those who can control the most hunting trails."
During a time when hunting-based reality shows seem to be TV's current over-done obsession (think Duck Dynasty, Swamp People, American Hoggers, etc), what will set this show apart from the rest?
"The show captures hunting as it truly is," said T'Jaye Forsythe, the Hawaii-born hunter who first came up with the show concept. "It's about survival and territory wars and surviving off the land. This is the off-the-grid subculture of Hawaii's hunting lifestyle."
The concept for a Hawaii hunting show first began with the birth of Forsythe's website, RustyBoar.com. The site acts as an online network for Hawaii hunters to upload their hunting pictures, videos and stories. "There are so many unbelievably talented hunters here," Forsythe told the Hawaii Reporter, "I wanted the world to see this."
Forsythe also wants the show to represent Hawaii to the rest of the country. "It will enrich their understanding of the culture on this island," he told the Huffington Post. "This is what goes on beyond the beautiful oceans and sandy white beaches. [There are] real issues, like conservation and how the hunting territories are getting smaller."
The first episode of "American Jungle" premieres Nov. 10 on the History Channel.
BEFORE YOU GO
PHOTO GALLERY
Around Hawaii's Big Island