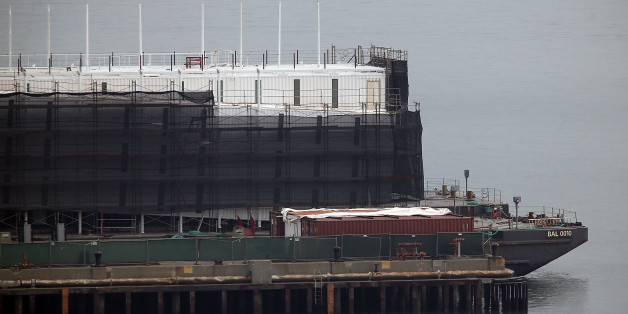 It's a bird! It's a plane! It's a...floating showroom?
Google's mysterious barge in San Francisco Bay just became a bit less of a mystery. KPIX, a CBS affiliate in the Bay Area, has dug deep and found sources that tell the station the barge will house luxury showrooms and a party deck for the search giant to market Google Glass and related products from Google's secret lab, Google X.
So that means that the barges -- there are two San Francisco and a third in Portland, Maine -- may essentially just be big party boats.
Watch the entire KPIX report here.
The exact purpose of the structures has been the subject of much speculation over the past few weeks. Earlier, CNET's Daniel Terdiman speculated that the structure housed a floating data center.
The barge that KPIX investigated is surrounded by chain-link fences and security guards, with reports that U.S. government officials signed confidentiality agreements to not reveal what is happening inside. The barge itself is composed of interchangeable 40-foot shipping containers that can be assembled and disassembled at any time, meaning the structure can be taken anywhere in world on ships, trucks or rail cars.
Google have yet to issue a reply to the KPIX report, and have been all around mum regarding the barges.
BEFORE YOU GO
PHOTO GALLERY
Craziest Google Map Sightings