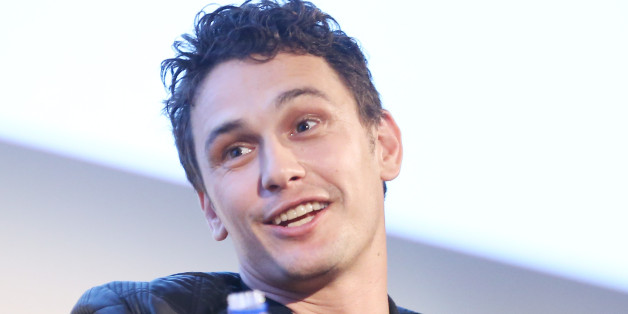 This story comes courtesy of The Hollywood Reporter.
By James Franco
Ed Note: The actor-artist is also a published author, including his debut novel Actors Anonymous and conceptual memoir A California Childhood. Aside from appearing in this year's Spring Breakers playing grilled-out white rapper Alien, the actor also went behind the camera as writer-director with his debut and William Faulkner adaptation As I Lay Dying. Gia Coppola's Palo Alto, which premiered at this year's Venice Film Festival, is based on a book by Franco and stars the actor. Franco's multifaceted cultural reach in film, acting, art and writing is so prevalent in pop culture, it was even parodied in the apocalyptic comedy This Is the End (where Franco plays an art-loving pretentious version of himself) and was the focus of many barbs during his Comedy Central Roast. Previewing his 2014 Ohwow Gallery show, James Franco shares his commentary on L.A. life in an essay which first appeared in the Nov. 8 issue of The Hollywood Reporter.
Los Feliz is cool, hipsters and dingy bars. There is a great French restaurant on Vermont called Figaro. House of Pies is pure shit food. Fred 62 is 24 hours, and they serve thick shakes. A waitress with pink hair asked me to the movies, and one time, at 2 a.m., I met a girl there from El Monte who would do me in the car when she drove into town.
West Hollywood is cool, gay. Halloween they go crazy all along Santa Monica Boulevard. I used to go to Buzz coffee and met a little psycho that said he was an artist; he harassed me, the little troll.
North Hollywood, in the Valley, just down from Universal Studios. What a shit pit wasteland. I took shitty acting classes there and f--ed 1 million girls. I knew a guy that lived in a shack among a bunch of shacks in the back of someone's house off Burbank Boulevard. He ran into a little money from his stepdad for molesting his sister when they were little, so he bought a gun and a huge fish tank.
Beverly Hills, still a mystery. I went to parties at a few of the places. My doctor is off Rodeo, he's missing two teeth. The Beverly Hills Hotel is a pink puke color; inside is a little coffee shop with the oleaginous guy serving tuna fish sandwiches, and I go and eat them, and read novels, and take big shits in the toilet-closet across the hall.
For the rest of the essay and Franco's thoughts on Hollywood, Downtown, Santa Monica and Malibu, click over to THR.com
BEFORE YOU GO
PHOTO GALLERY
The Franco Roast Jokes You Didn't Hear