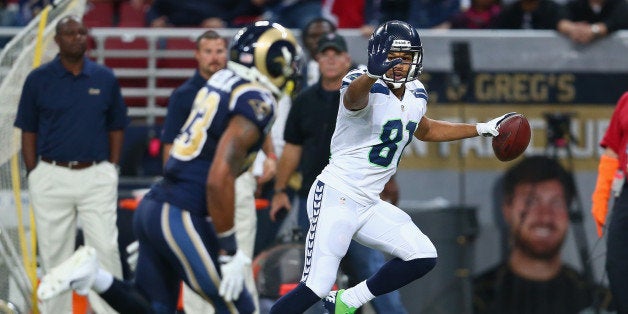 Maybe somewhat less common was my father's extreme take on in-game celebration. Upon seeing a player high-step into the end zone, or perform some sort of dance after a big play, my father would vehemently opine, "You know, they should just take him to the 50-yard line and shoot him…and keep the cameras rolling. That would put an end to this garbage".
As I am sure most children do, I wrote-off my dad's comments as just another, "Hey kids, get off my lawn!" rant from an old guy who cherished the good 'ole leather helmet days. Through a child's eyes at the time, this is how the game was played, both in NFL stadiums and in schoolyards across America.
I must admit, when I saw Seahawks wide receiver Golden Tate's taunting antics as he was heading for his second touchdown in Seattle's Monday night victory over St. Louis, I was trending toward alignment with my father's stance on celebration in sports. Just one day prior, Broncos defensive back Dominique Rodgers-Cromartie made me shake my head as he started high-stepping at midfield and proceeded to eyeball Redskins quarterback Kurt Cousins all the way into the end zone after picking him off in the fourth quarter.
If I saw one of my two sons directly taunt an opposing player like that in one of their little league games, I'd physically pull him off the field, and he would spend the rest of the game watching his teammates play from the parking lot. As for how to address this problem in the NFL, the "think of the kids…you are not being a good role model" angle has proven ineffective for years. And, allowing the referees to take points off of the board by enforcing penalties at the spot of the foul seems too subjective to be the right answer.
I propose the NFL start a youth sportsmanship program, similar to the Heads-Up Football safety initiative. The program would be funded by fines levied on players who act in an unsportsmanlike fashion, and those fines would be matched by the player's team. This would align incentives to remedy this blemish on the game.
Before I'm written off as just another hater, or killjoy who is turning into his father, allow me to clear the air. I believe football should only be played with emotion, aggression and passion. During my nine-year NFL career, I was guilty as sin, on multiple occasions, of celebrating. This includes, but is not limited to, choreographed handshakes, vaulting skill players into the air like Dirty Dancing, and even the occasional belly bump. What can I say? I was an offensive lineman, so my "swag" capacity was limited. Furthermore, I have no problem with, and rather quite enjoy, many of the NFL's "trademarked" celebrations. Aaron Rodgers' "Discount-Double-Check Championship Belt," Victor Cruz's "End Zone Salsa," Cam Newton's "Running Jump Shot," and Jared Allen's "Calf Roping" are examples of "extra-curricular" activities that bring fun and vibrancy to game.
But just as Albert Haynesworth's stomping on the face of Andre Gurode or Ndamukong Suh stomping on the arm of Evan Dietrich-Smith have no place in the game of football, neither do disrespectful, targeted, taunting demonstrations like those of Rodgers-Cromartie and Tate. Football is a violent sport, and there are plenty of opportunities to impose wrath on an opposing player within the framework of the game. If Tate would have lit up a member of the St. Louis defensive backfield with a vicious block later in the game, that would have made a statement. Unfortunately, the only statement Tate made was that he was mentally weak enough to let his opponent get into his head, and selfish enough to penalize his own team by acting like a child.
I think the warriors of martial arts—rooted in Asian culture—have it right: Bow after a victory. Make a simple demonstration of respect for the contest itself and recognition of the bravery it took for your opponent to even stand in front of you.
I'm not sure if Arian Foster has this in mind when he performs his touchdown bow, but I'll take it.
Adam Goldberg is a retired NFL offensive lineman of nine seasons who played with the Minnesota Vikings from 2003-2005 and the St. Louis Rams from 2006-2011 after having graduated from the University of Wyoming in 2003. Goldberg currently resides in Denver, Colorado.
BEFORE YOU GO
PHOTO GALLERY
Best 2013 Sports Photos