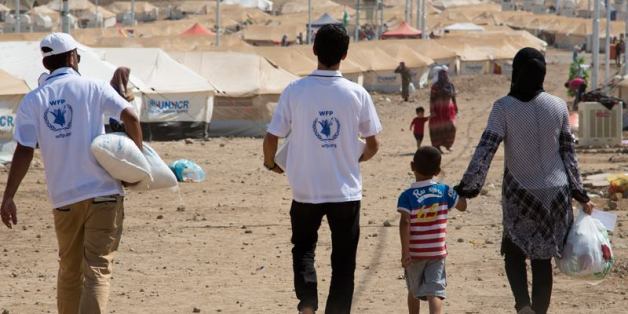 GENEVA, Nov 1 (Reuters) - The United Nations food agency delivered rations to a record 3.3 million people in Syria in October, up from 2.7 million the previous month, but voiced deep concern on Friday about civilians in besieged areas that remain inaccessible.
"It is a record for WFP operations since starting in 2011. But it is still short of our target of 4 million," Elisabeth Byrs, spokeswoman for the World Food Programme (WFP), told a news briefing in Geneva.
Fighting and insecurity had hampered its access in parts of Aleppo and Hassakeh provinces during October, she said.
"Elsewhere in the country and especially in the governorates of Damascus and Rural Damascus, more areas are becoming inaccessible due to the intensification of the conflict," Brys said.
With civil war raging in Syria, WFP has been unable to deliver food supplies to 38 locations, including Mouadamiya on the edge of Damascus, which it has tried nine times unsuccessfully to reach over the past year, she added.
A rare moment of coordination between the Syrian government and rebels enabled 1,800 civilians to flee the besieged town on Tuesday, but thousands remain trapped with little food, water or medicine. {ID:nL5N0IJ34O]
"WFP is concerned about the fate of many Syrians trapped in conflict areas and still in need of urgent food assistance. We are monitoring worrying reports emerging of malnutrition among children in besieged areas," Byrs said. (Reporting by Stephanie Nebehay; Editing by Mark Trevelyan)
BEFORE YOU GO
PHOTO GALLERY
Syria War In August (Warning: Graphic Images)