A local artist in Aurora, Colo. has been arrested in the kidnapping of an 8-year-old girl who was taken from her bedroom window just after midnight last week.
John Stanley Snorsky, 26, was charged with first and second degree burglary and kidnapping after he was arrested Tuesday morning on an unrelated "investigative parole hold." Police didn't identify him as a suspect in the kidnapping until Friday evening however when they'd collected enough evidence for a warrant.
In a video titled "RawBioVideo" uploaded to YouTube by Snorsky last year, Snorsky describes himself as "a self taught artist whose work exudes the sorrow he has experienced during his tragic life." In the video he also calls his father "an illegal alien" from the Soviet Union "who was sent to prison for murder," and claims his mother was "mentally unstable" and abused him.
The video displays several artworks including nude portraits, a drawing of a man with a bull's head and a painting of a naked man who's shackled and appears to have his flesh picked at by vultures.
Aurora Police Chief Dan Oates told the media during a press conference on Saturday that police had received over 200 tips in the last week, and that the young girl's description of the man was crucial to developing the sketch (story continues below photo):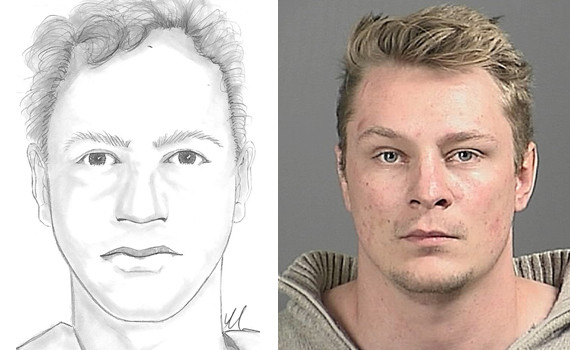 "We're working with our federal division partners to see if Mr. Snorsky has travelled outside of the metro area," said Investigative Division Chief Rob McGregor on Saturday during a press conference. "But right now our appeal is that if anybody has had contact with him, please contact Detective Hurley."
According to a report by The Denver Post, Snorsky has described himself as "poised to become one of the greatest artists of his generation."
Snorsky's full-time job though was reportedly at Sub Stop in Aurora, where he would also display some of his art that was for sale, according to a report by KDVR.
Westword claims to have also found a photo of Snorsky with his face painted like a jester or a clown in front of one of his paintings during a zombie-crawl party last week, just two days before the alleged kidnapping.
The reward for Snorsky's capture was raised to $20,000 shortly after the kidnapping -- the most offered in the Aurora Police Department's history. Snorsky is accused of removing a window screen to a girl's bedroom, grabbing her and trying to flee on Oct. 28. The girl's screams during the alleged attempted kidnapping provoked her father to run outside where he found his daughter already running back toward the house.
From the alley at the rear of the house, the victim's father told investigators that he saw a silver or grey BMW sedan driving away through the alley. Police say however that the car was likely a silver Mercedes that Snorsky owned and that has since been impounded.
The case is being treated as a stranger abduction, which is the least common kidnapping scenario. According to the National Center for Missing and Exploited Children's most recent data from 1999, only 115 children were kidnapped by a total stranger out of the approximately 800,000 children under the age of 18 who went missing.
Snorsky is being held on $500,000 bond and may be in court as early as Monday.
Police are saying that there could be more victims and are asking anyone with information to call Detective Christine Hurley at (303) 739-6113.
BEFORE YOU GO
PHOTO GALLERY
Missing Children