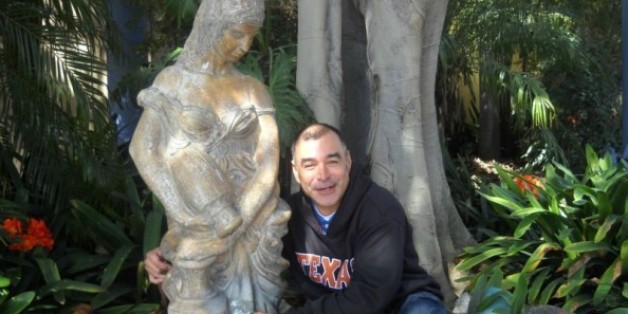 A costumed reveler went up in flames in front of hundreds of people at a Halloween celebration in West Hollywood, Calif., last Thursday, eventually dying from his injuries. Disturbing bystander video of the incident reveals that some in the crowd may have thought he was part of the show, and didn't try to help him until it was too late.
Gilbert Estrada sustained severe burns to the upper part of his body, including his face. He died Friday morning at a local hospital, reports the Los Angeles Times.
Footage of the fire was uploaded to YouTube on Sunday, along with information about how witnesses can contact investigators. The video opens on one of the performance stages on Santa Monica Blvd. About 23 seconds into the footage, the video scans to the left as Estrada suddenly goes up in flames.
Estrada runs through the crowd as it widens to get away from him. Eventually, he collapses to the ground, where bystanders begin to gather around. Some try to help stamp out the embers, while others mock him.
"Is that real? Is that real?" one man asks repeatedly toward the end.
WARNING: Footage may be disturbing to some viewers.
Investigators have asked eyewitnesses and those with footage shot from cameras or mobile phones to contact them at 323-267-4800 or 1-800-222-8477 with any tips about the incident.
"Right now, we don't know if it was an accident or a crime," said Sgt. Richard Peña, a spokesman with the Los Angeles Sheriff's Department. "We want to look at video and see what actually happened."
Peña also confirmed that investigators don't know what Estrada was wearing that night, but LAist reports that he was wearing a sniper costume.
Pablo Estrada, who identified himself as the victim's brother, has started an online campaign to raise money for the funeral:
On October 31st, my brother Gilbert Estrada passed away from a tragic accident he sustained while celebrating halloween at West Hollywood's Halloween Carnaval. His costume went up in flames for reasons unknown and he suffered severe burns to his upper torso including his face. He was transported to Cedar-Sinai where the following morning he succumbed to his injuries and passed away. Therefore, we are asking for any financial assistance for his funeral and burial cost.
The West Hollywood Halloween Carnaval is an annual celebration that attracts hundreds of thousands of people to the city every year. The West Hollywood City Council had no comment about the incident.
BEFORE YOU GO
PHOTO GALLERY
10 Major Crimes That Shocked America (SLIDESHOW)