Almost two years after suffering a debilitating stroke, U.S. Sen. Mark Kirk returned to the steps of one of the world's tallest buildings to raise money for the Rehabilitation Institute of Chicago -- and to push his new stroke recovery legislation.
Sunday, the 54-year-old Republican beat his 2012 climb to ascend 41 stories of the Sears Willis Tower.
Kirk was among some 3,000 participants for this year's SkyRise Chicago event and was joined by stroke survivors and their families, including his 11-year-old pen pal, Jackson Cunningham.
"This was a little bit more difficult the last time," Kirk told ABC Chicago. "I had a physical therapist helping me, this was all on my own."
At a press conference before his climb, Kirk also pushed three bills he introduced earlier this year aimed at expanding access to the quality of rehabilitation care he says helped him recover enough to do the climb.
"About 900,000 Americans a year will suffer from stroke, and about a third of them will not return to work," he said according to the Sun-Times. "For those 300,000 people, I don't want to throw them away. I don't want them to feel like they've been thrown away, and I think this stroke agenda will help us return many, many more Americans to work."
The senator, who still sometimes uses a wheelchair, told the Associate Press "If I can do it, then anybody can do it."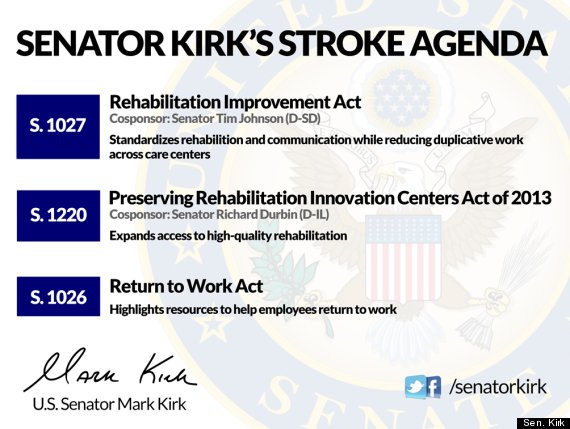 BEFORE YOU GO
PHOTO GALLERY
Mark Kirk In Recovery From Stroke