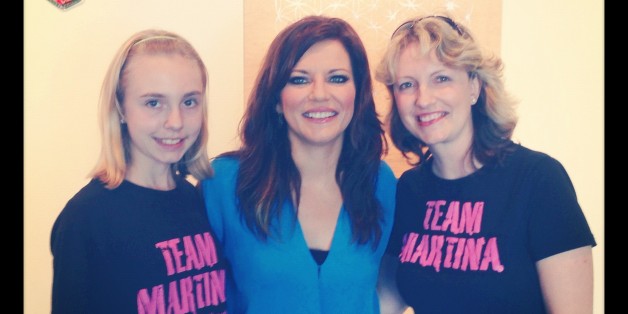 Two years ago, country star Martina McBride released a song called "I'm Gonna Love You Through It," about one woman's battle with breast cancer. McBride didn't know at the time that the heartfelt song and video -- which featured celebrities like Sheryl Crow as well as everyday women who had struggled with breast cancer -- would spark a movement among her fans to support cancer treatment and research.
Sheila Jones, an Alabama mother and cancer fundraiser, had been a mega-fan of McBride for years (specifically, since the country singer released the song "Independence Day" in 1994). When she first heard "I'm Gonna Love You Through It," Jones was inspired to harness the power of McBride's fan base to help women who were suffering from breast cancer.
"When that song came out, I got the idea in my mind to form this volunteer team out of these country music fans," Jones told The Huffington Post recently. "We started doing these events, and things sort of ballooned."
Jones had been working full-time raising money for the American Cancer Society. She quit her job in order to do the same work in a different way -- one that combined raising money for good causes with her love of country music.
She tapped into McBride's virtual fan base and started Team Martina, a community service organization dedicated to volunteerism and the healing power of music. She continued spreading the word over Facebook and Twitter and recruited dozens of members in a matter of months.
Now, Jones says 90 percent of Team Martina volunteers and donors found the organization through social media. "It really grew out of her fan club," she explained.
Team Martina has several hundred active volunteers who participate in national and local fundraising events and who sometimes follow McBride on tour, meeting at various stops around the country and raising money to benefit cancer research and local causes.
"We've dedicated ourselves to picking tour dates during the year and doing a good deed in the town where she's playing," said Jones. "None of us get paid -- we just show up from 15 different states."
At many tour dates, Team Martina volunteers and donors raise money to earn passes for the sound check before the show (a project Jones calls "Soundcheck for a Cure"). A few weeks ago, the group did a fundraiser in Atlanta called Soundcheck for Kids, raising $30,000 for a new children's playground. In total, the organization has raised over $130,000 for cancer research and other charitable causes.
But the group doesn't just raise money. Team Martina members also go to hospitals to visit cancer patients and donate gifts. At Christmas, they hand out warm hats for chemotherapy patients. In 2011, McBride herself even came along with team members to St. Thomas Hospital in Nashville, Tenn., to deliver gifts and sing Christmas carols.
"It's a very generous and special thing that she's doing as part of this," said Jones. "[McBride] is a beautiful person inside and out ... she has inspired so many good things to happen in the world."
And added perk of Jones's new job is getting to spend more time with her 10-year-old daughter, which she says makes Team Martina "even more fun and rewarding."
"She says I'm the coolest mom in the world," Jones said, laughing. "I've taken her backstage at the Grand Ole Opry with a Team Martina event. She's been to numerous concerts, but she also goes on these hospital visits with me. It really is a family activity."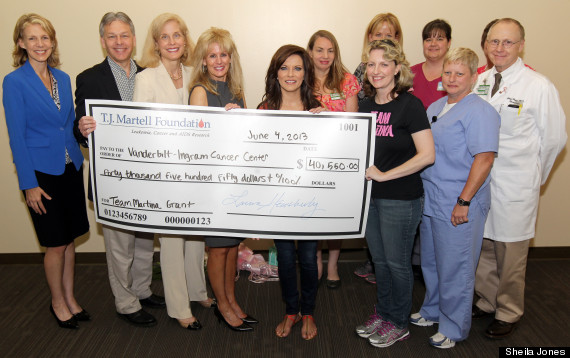 This post is part of a series produced by The Huffington Post highlighting the contributions of Go-Givers -- people who are looking beyond a "Go-Getter" approach to success and redefining success to include the importance of giving back. To nominate a Go-Giver of the Week, email gogiver@huffingtonpost.com.
BEFORE YOU GO
PHOTO GALLERY
Successful People Who Made Their Own Luck