"Bullying Not On Your Watch," a 921-mile walk that began in early October, is preparing to reach its conclusion as participants edge closer to New York City. A symbolic 37-day journey from Chicago to New York and sponsored by the Friend Movement, the campaign seeks to raise awareness surrounding bullying of lesbian, gay, bisexual and transgender (LGBT) youth, but also to honor the third anniversary of Tyler Clementi's death.
"Bullying Not On Your Watch" will conclude with a walk across the George Washington Bridge, the place where Tyler Clementi took his own life in 2010.
Those taking part in the bridge include James and Jane Clementi, brother and mother of Tyler, Ronnie Kroell and Elliot Landonon of the Friend Movement, as well as GLAAD and GLSEN.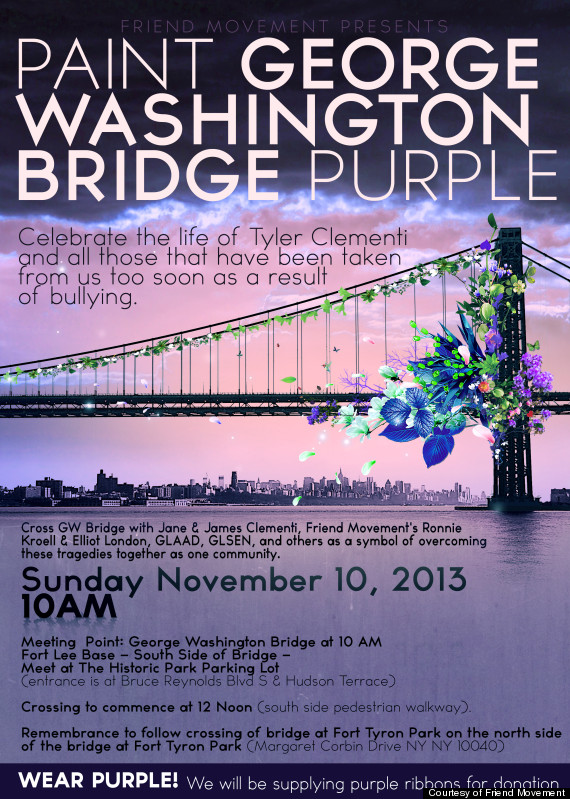 Interested in crossing the bridge and celebrating the life of Tyler Clementi, as well as helping to raise awareness for bullied LGBT youth? Meet at the George Washington Bridge at 10:00 a.m on Sunday, Nov. 10. The group will gather at The Historic Park Parking Lot (entrance at Bruce Reynolds Blvd S and Hudson Terrace). The crossing of the bridge will commence at 12:00 p.m.
For more info about The Friend Movement, head here.
BEFORE YOU GO
PHOTO GALLERY
The New F Word