Susan Darrah of Boonton, N.J., says she was stunned last week when she saw a deer with an arrow stuck in its head wandering through her backyard. On Nov. 1, she posted a heartbreaking photo of the injured animal on Facebook.
Darrah explained to her concerned Facebook friends that she had immediately contacted the New Jersey Division of Fish and Wildlife. She added that the animal did not appear to be in much pain.
"[H]e actually didn't seem to be in any distress," she wrote on Tuesday.
SCROLL FOR PHOTO (WARNING: GRAPHIC)
NJ.com reported Monday that the state is currently in the midst of its fall bowhunting season, and that the Division of Fish and Wildlife had sent out a crew to look for the deer. Spokesman Bob Considine told the news outlet that if agents were to catch the animal, they would tranquilize it and attempt a removal of the arrow.
"[N]o hunter would do this intentionally and would look for this animal once he/she realized they missed," Darrah said Monday on Facebook.
The deer's fate was unknown as of Tuesday evening. Calls to the state's Division of Fish and Wildlife went unanswered, and Darrah told the New York Daily News that she has no updates on the animal's condition.
"I'm still keeping my hopes up another day or two," she told the news site Tuesday.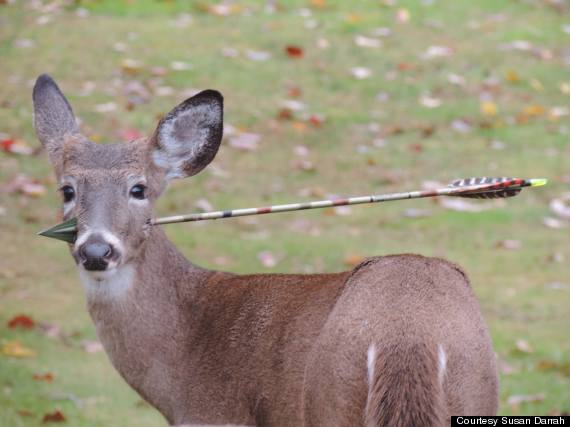 BEFORE YOU GO
PHOTO GALLERY
10 Worst States For Animal Abuse Laws