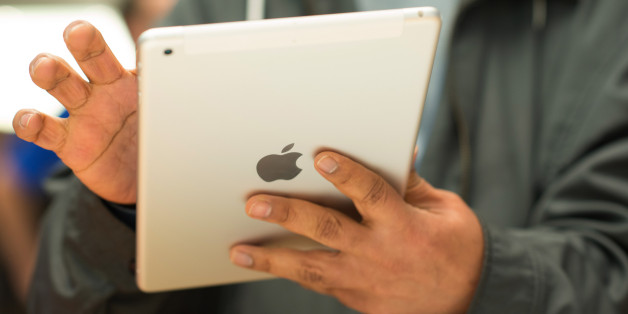 There's a newer, sleeker iPad in town, which for many, means it's time to throw their old garbage iPad into the street while running to the nearest Apple store.
The only problem is that the shiny new iPad Air will cost you between $479 and $929 depending on what features and data storage you choose. Thankfully there are a few ways to get money for your old iPad to put towards your new one. Or, you know, your bills.
If you can get to a Target store before Nov. 9, it's your best bet. You can trade in a working iPad of any model for a Target gift certificate of $200 or more. You are guaranteed at least $200 before Nov. 9 and the gift certificate can be used for any Target merchandise, Target spokesperson Erin Conroy told The Huffington Post. If you like Target and can get there in the next few days this is without a doubt your best option.
After Nov. 9 you can still trade your old iPad in, but will no longer be guaranteed $200. This promotion is only available in stores. Target will also give you a $25 gift card if you buy an old iPad Mini for $299.
If you're not a Target fan or won't be able to sell your iPad until after Nov. 9, you have other options. Here are a few of the best:
Amazon
You can trade your old iPad in for Amazon credit. How much money you'll get depends on what kind of iPad you have and what condition it's in. Amazon will give you between $54 and $115 for a 64 GB first generation iPad with WiFi and 3G, depending on what shape it's in. You can get between $247 and $302 for a 32 GB fourth generation iPad with WiFi.
Walmart
Walmart will give you a Walmart gift card for your old iPads. You can get $90 for a working 64 GB first generation iPad with WiFi, or $180 for a working 32 GB iPad 3 with WiFi, for example. You don't have to use the gift card for a new iPad, but you do need to spend it at Walmart.
Apple
Apple has its own trade-in program where you can get an Apple gift card for an old Apple device. They'll ask a bunch of questions about your device's condition and what components you're including in your trade-in, so it's hard to say how much money you'll get for your iPad. For example, Apple will give you $50 for a non-water damaged, fully functioning 64 GB first generation iPad that has never been engraved. Did you get all that? It's complicated, but you can use your new Apple gift card on anything Apple makes, if you want to trade your old iPad in for a new MacBook Air.
Gazelle
Gazelle, a company that exclusively exists to buy back old electronics, certainly doesn't guarantee you $200 for your iPad, but it will do something no other company will: give you real money. When you sell to Gazelle, you'll get paid in the form of a check, an Amazon gift card, or via PayPal. Your choice.
Gazelle will pay you $70 for a 64 GB first generation iPad with WiFi in good condition and $240 for a 32 GB fourth generation iPad with WiFi in good condition.
BEFORE YOU GO
PHOTO GALLERY
The Lost iProducts: Apple's Prototypes