A German spa is in hot water after an ill-advised advertisement invited guests to enjoy a "long, romantic Kristall-Nacht" to be held on the anniversary of a Nazi pogrom against Jews known as "The Night of Broken Glass," or, "Kristallnacht."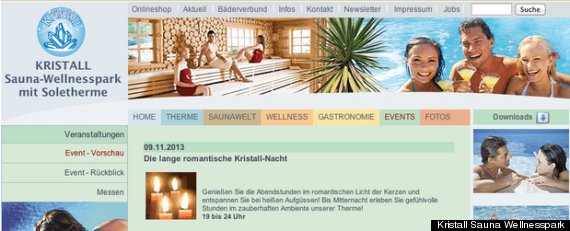 Blogrebellen caught a screenshot before the inappropriate ad was taken down.
The sauna, Kristall Sauna Wellnesspark in Bad Klosterlausnitz, issued an apology on Facebook and pulled the ad once their gaffe was pointed out, reports The Forward.
An unidentified employee from the sauna told The Jerusalem Post on Monday that the advertisement was a "misunderstanding and refers to the name of the firm," as they use "Kristall" as a prefix for other events and promotions on their website.
Their pun went epically wrong, as they chose November 9th, the 75th anniversary of Kristallnacht, for their promotion, which originally read, "The long romantic Kristall-Nacht: Enjoy the evening hours in romantic candle light and relax."
An apology on their website said, "'We are ourselves ashamed of the mistake."
Rightly so.
BEFORE YOU GO
PHOTO GALLERY
Lost Synagogues Of Europe