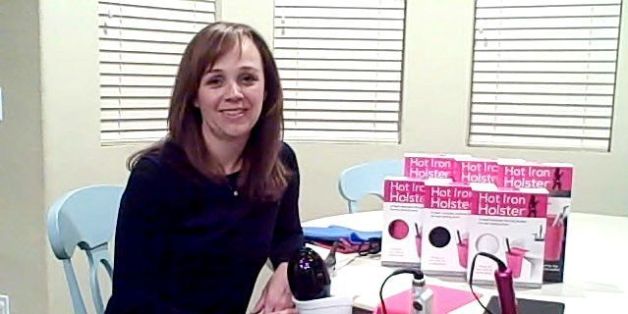 One of the reasons I started my website is that I wanted a place for women to come together and dream. We women need to know that we don't have to hang on to an old dream that has stopped nurturing us -- that there is always time to start a new dream. This week's story is about a busy mom who wanted to keep her kids safe around the hot styling tools she kept in her bathroom. So she pulled out her sewing machine and created a product that keeps hot items away from little hands. Now she's not only juggling three kids, but a growing company. Talk about multitasking! -- Marlo, MarloThomas.com
By Lori Weiss
Erin Balogh's mornings began like millions of other Moms around the world. With her 5-month-old daughter, Quinn, in a high chair and toddler, Kate, following her every move, she struggled to prepare breakfast and keep them happily occupied while she was getting ready for work.
"Every morning," Erin explained, "I'd move my curling iron, a flat iron, a hair brush and make-up bag downstairs with me and set them up in the guest bathroom, so I could keep my eye on the girls. I'd do a section of my hair and pop out to change a diaper or put in a load of laundry."
"But all I had was a small pedestal sink in that bathroom, so there wasn't a lot of room. And my two-year-old was far too interested in being in there with me -- and in the cords that were hanging down."
Erin was an emergency room nurse and in turn, intimately familiar with the kind of damage a falling curling iron could do. She'd seen parents and kids alike, come in with second degree burns.
"I've scorched myself a few times" she admitted. "Some of the hair styling tools can get up to 500 degrees. If you think about it, when you put your oven on 500, you're just about broiling at that point.
So given the choice of remodeling her bathroom or going to work with her hair half done, Erin went to the internet, thinking there must be something like she'd seen in salons, that would keep her hot styling tools out of her toddler's hands. But all she could find were permanent solutions, which could be mounted to a wall -- not something she really wanted on public display in her powder room.
"I saw some silicone hot pads, but there was no room for something like that on my small sink. They made me think though. I had all kinds of silicone things in my kitchen -- oven mitts and hot pads. And I thought, if I can put silicone into the oven, where it's hot, why can't I put something hot into silicone?"
At the time, Erin was just looking for a solution to keep her kids safe. But that "Aha" moment would lead her to create a product that would earn nearly a million dollars in its first year on the market.
Article continues below slideshow
PHOTO GALLERY
Erin Balogh
"I like to sew," the innovative Mom said. "I've made curtains for the house, I've re-covered a couch. It's hard for me not to make things better! So I went to the kitchen and pulled out two silicone mix-matched hot pads and an oven mitt. I sewed the two hot pads together and pinned the silicone oven mitt to them, so it was hanging down, like a holster."
"I wasn't completely committed at that point -- so I left the pins in, just in case I needed the oven mitt in the kitchen! Then I filled a zip lock bag with coins and slipped it into an open flap -- to weigh the whole thing down. It wasn't super pretty, but it worked! I could lay it on the edge of my sink and put my hot irons into the mitt part, and Kate couldn't get to them. And I began thinking, I would buy one of these."
That's when Erin and her husband Guy, decided to pay a visit to a patent attorney to find out what might be involved with bringing a product to market. Feeling secure that her concept was protected, the couple moved forward and found a local company that creates proto-types -- hoping for something a little more sophisticated than Erin's handiwork.
"We walked in and we were greeted by a bunch of male engineers," Erin said with a smile. "I didn't get the sense that they really understood the importance of something like this. So we moved our meeting into the men's bathroom, and I showed them how it worked. Imagine having your first development meeting, surrounded by a group of men, in a public bathroom!"
But once the engineers saw Erin's concept come to life, they went to work on developing something she could show to potential retailers. And Guy surprised Erin with a birthday present she'll never forget.
"Guy had heard about the International Home and Housewares Show in Chicago and he thought it would be cool for me to bring it there. So he bought a tiny booth in the inventor's area of the show. While we were there, there were lectures you could attend and panels that you could pitch your product to. So we rolled a sink up to the front of the room and demonstrated how the Hot Iron Holster works."
"That's when a woman came over and said, "When you're ready to sell, get in touch with me. She was with Sky Mall!"
And that's when the couple got serious. They wanted Erin's invention to be lightweight, to avoid expensive shipping costs, yet it needed to hold firmly to a sink. They discovered a grippy form of silicone that when tested, held more than twenty pounds of weight. And seven months later, they went into production.
"That was the scariest point," Erin recalled. "You just never know for sure how things are going to turn out and we had more than doubled our investment at that point. But we're risk takers and we were both still working full-time. And we knew we would regret not trying."
So with samples in hand, once again, they went back to the Home and Housewares Show -- and this time, they not only met with the Sky Mall buyer, but they had conversations with shopping networks and major national retailers.
"We knew we weren't ready for stores like Walmart or Kmart at that point. So we were always up front. It was just the two of us and we knew our limitations. We didn't want to overpromise and not deliver.
But by October of 2012, Erin and Guy were flying high. Sky Mall had put a picture of their product into millions of hands. Orders started coming in and in just three months, the entrepreneurial couple sold more than 12,000 Hot Iron Holsters.
"At that point we didn't have a fulfillment company," Erin laughed, "so everything was being shipped to us. A 20 foot truck would pull up into our drive-way and drop off palettes. The neighbors were beginning to look at us a little strangely."
It wouldn't be long though before the neighbors would get a better understanding of what was going on at the Balogh house -- because Erin's invention was on its way to The Container Store and ready for its close-up on QVC.
QVC is based in Pennsylvania, so we were watching from our home in San Diego. It was 1 AM PST, basically the middle of the night for most of the country, so we had no idea how it would go. But when we saw that little counter on the screen and they said they were sold out of black, we were so excited! In seven minutes, we sold 2000!"
Since then, the handy holster has been featured nine more times and the network is stocking up for the holidays. And the couple is on the verge of announcing their biggest sale yet. They're expecting to be on the shelves of a major retailer and a national beauty supply store by Spring of 2014.
Just one year from the time they shipped their first order, Erin and Guy have already brought in $800,000. They've both quit their full-time jobs and now the invention Erin created at her kitchen table is in professional hands -- beauty professionals. They've created a larger Hot Iron Holster that can hang over the back of styling chairs, allowing hairdressers to have everything they need at their fingertips.
And somehow in the midst of putting a new product on the market, they found the time to expand their family too. There's a new toddler in the house, Jake, who may not be as interested in Mom's girly things, but will definitely be safe if he follows her into the family's powder room.
"I put this idea away for awhile," Erin said softly. "I'd tuck it in a cupboard, then pull it out again. I think a lot of people do that. And then you're afraid to talk about it, because you don't want anyone else to take your idea and run with it. But you can't live in fear. And you definitely don't want to live with regret. You can't let a good idea just sit on a shelf. You have to get it out there."
Add Marlo On Facebook:
Follow Marlo on Twitter:
Sign up to receive my email newsletter each week - It will keep you up-to-date on upcoming articles, Mondays with Marlo guests, videos, and more!