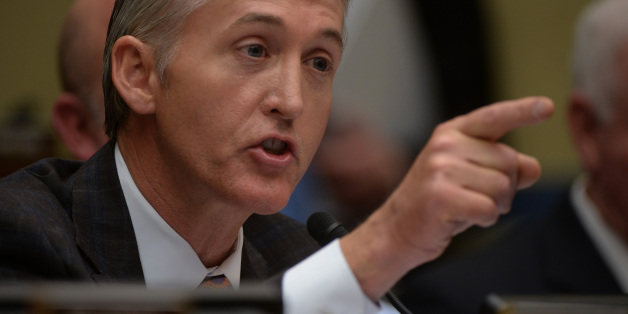 Rep. Trey Gowdy (R-S.C.) took a Monday shot at President Barack Obama on Obamacare, tying the plan's launch to one of the president's biggest honors over the years.
In an interview with Fox News' Megyn Kelly, Gowdy invoked Obama's 2010 Nobel Peace Prize win, saying the president was worthy of another award.
"The president already has a Nobel Prize for peace," Gowdy said. "I think he's shooting for one in fiction."
Gowdy's comments came on the same day that Obama addressed frustrations for Americans losing their health care plans. Speaking at an Organizing For America event in Washington, Obama stressed that while he knows cancellation notices "can be scary for people," virtually every insurer is offering newer, better plans.
"If you had or have one of these plans before the Affordable Care Act came into law," Obama said, "and you really like that plan, what we said was, you could keep it… if it hasn't changed since the law's passed."
Presented with that quote by Kelly, Gowdy went back to prior instances of Obama explaining the health care plan, charging that the president had said "period" at the end of his sentences, and "now he's added a rather a lengthy footnote." The tea partier has been one of the fiercest critics of Obamacare, telling Fox News on Oct. 23 that the law is "the most predictable crisis in a long time."
During a speech in Boston last week, Obama touted that time will be a key factor with Obamacare, pointing to Massachusetts' health care reform plan as anything but an overnight success.
"That doesn't mean it was perfect right away," Obama said. "There were early problems to solve."
BEFORE YOU GO
PHOTO GALLERY
11 Paranoid Obama Conspiracy Theories