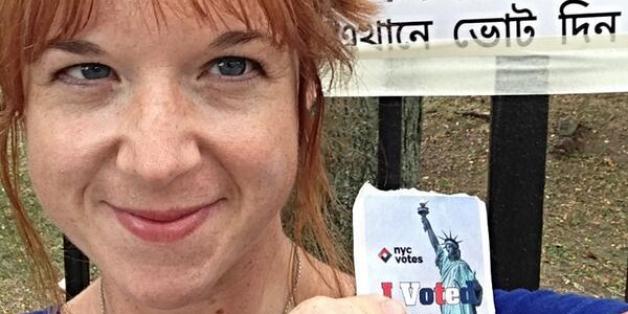 New Yorkers will elect a new mayor and vote on six important ballot measures Tuesday. WNYC, as they did during the primaries in September, encouraged local voters to tweet their "voter selfies." Before long, #voterselfie was trending regionally on Twitter Tuesday morning. Check out some great photos below of New Yorkers celebrating their civic duty:
We voted! (It's never too early for lessons in civic responsibility.) cc: @wnyc #VoterSelfie pic.twitter.com/hzeaTbva1i

— Beth Kopine Canipe (@BKCanipe) November 5, 2013
BK Borough Hall #VoterSelfie pic.twitter.com/9MIeSEQS1V

— brian hagan (@brianhagan) September 10, 2013
At PS186 #Queens: "Becky! NPR says you have to do a #voterselfie! How do you do that?" #motherdaughtervoting pic.twitter.com/9XHAxL3YWU

— Rebecca Lynch (@RebeccaDLynch) November 5, 2013
Civic Duty'd! Last-minute #VoterSelfie for @WNYC...glad I voted for (sound of cartoon piano crashing into street)!! pic.twitter.com/3B1Snj4UFY

— Carol Wade (@cwade) September 11, 2013
Hobbling towards democracy. My on-crutches #VoterSelfie pic.twitter.com/QQU3uwMb1v

— Jody Avirgan (@jodyavirgan) November 5, 2013
Number 52 in my voting district! #voterselfie cc @WNYC #votenyc pic.twitter.com/kJyvMqEPCC

— Liz Tripp (@LizKTripp) November 5, 2013
Okay, here's my #VoterSelfie. Send yours, and filll out WNYC's three-minute voter survey https://t.co/Ch6mAC6U8I pic.twitter.com/RhpVi1XACa

— Brian Lehrer Show (@BrianLehrer) November 5, 2013
I just voted at PS 316 in Prospect Heights in the NYC local Democratic primary. I <3 District 35! #voterselfie pic.twitter.com/4v7VOBu1tz

— Kyle Gorjanc (@CinnaOne) September 10, 2013
Reminder: make sure that you do not photograph your actual ballot while taking your selfie. Technically, you can take a photo of yourself while in the booth, since New York State has no explicit rules against it, but it may be a good idea to wait until you leave the polling location altogether and that way you can include your "I voted" sticker in the photo.
[via WNYC]