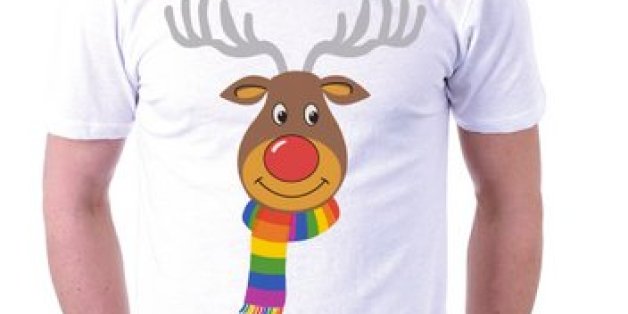 A lesbian couple was surprised to learn that eBay had removed their clothing designs depicting cartoon Christmas characters like Rudolph the Red-Nosed Reindeer. The reason? The items had been labeled "gay interest" and allegedly violated the auction site's "adult" policy.
Teresa Millward and Helen Brearley began dating in 2003. Four years later, they started their United Kingdom-based business, Pretty Pink Pearl, selling gifts and clothing aimed at lesbian, gay, bisexual and transgender consumers, according to Gay Star News. They recently had been using eBay to sell shirts and sweatshirts that sported sayings like "Xmas Is Gay" or featured holiday-themed characters wearing rainbow scarves.
The sale of those goods was apparently halted when eBay removed the listings. A representative from the auction site reportedly told the women that classifying their goods as "gay interest" in the listing titles was a violation of eBay policy, according to an email posted on the Pretty Pink Pearl website.
In the purported email, the company explained:
There has been a trend of adult or fetish themed used clothing items being listed on the site; these items are not a positive reflection on eBay or our member community. As such we remove any items we feel include inappropriate or adult related content. In making this assessment we review the full listing content including description and images. We ask you do not relist your item in such a manner that the listing depicts an adult nature. You can list genuine item which complies with the eBay policy [all sic].
The women were left feeling confused.
"We were devastated. We felt that they were implying that 'gay' is synonymous with a dirty word. That gay people would only be interested in fetish items and used clothing, that this is what is implied by gay interest," Millward said in a statement to The Huffington Post in an email Wednesday. "eBay's response shocked us especially when you can search for the term 'fetish' itself and come up with a number of listings and even penis' printed onto t-shirts and some pretty obvious sexual items. We felt that this was an unhanded way of being homophobic [all sic]."
When contacted by HuffPost, eBay dismissed the issue as a system error and said the company is a supporter of diversity.
"eBay is a marketplace for everyone and we would never want to discriminate against any customer," a spokesperson for the site said in an emailed statement Wednesday afternoon. "To keep eBay a great place to shop, our listings have to follow certain rules and accurately describe the item for sale. We welcome listings using 'gay' as a factual item description, for example 'gay literature' or an item with a gay character. We don't allow use of the term 'gay' as a marketing term to imply a sexual aspect to an item, and this listing was mistakenly identified as such by our system. We will contact the seller to put it right."
In a follow-up email, he added that the removal was a mistake and that the items never should have been removed. eBay is currently working with the sellers to resolve the matter. However, Millward said the incident has left her and Brearley feeling "disheartened."
BEFORE YOU GO
PHOTO GALLERY
25 LGBT-Friendly Products & Companies Targeted By Boycotters