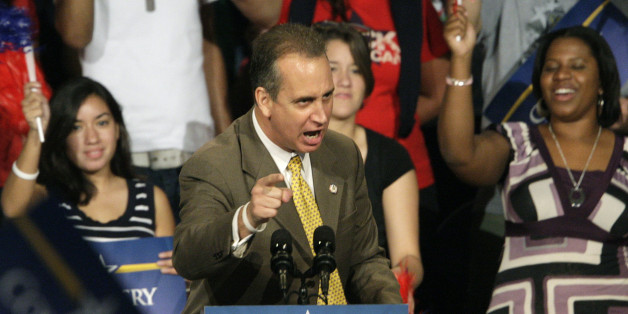 Rep. Mario Diaz-Balart (R-Fla.), a long-time supporter of immigration reform, told The Washington Post's Greg Sargent on Thursday that the "window is definitely closing" for any bill to give undocumented immigrants legal status.
In fact, Diaz-Balart said he doesn't expect anything to happen on the issue at all in 2013, and noted it might be doomed entirely for this Congress if it doesn't get a vote before February or March, when members turn to their reelection bids.
"We have very few days available on the floor in the House, so I don't think we're going to be able to do it this year," Diaz-Balart told Sargent.
"I'm hopeful that we can get to it early next year," he added. "But I am keenly aware that next year, you start running into the election cycle. If we cannot get it done by early next year, then it's clearly dead. It flatlines."
GOP leadership has insisted they are still interested in immigration reform, but haven't announced any votes on existing bills. A measure from Majority Leader Eric Cantor (R-Va.) and Judiciary Committee Chairman Bob Goodlatte (R-Va.) to give legal status to undocumented young people -- announced four months ago -- has yet to materialize. Immigration reform advocates insist the effort isn't dead yet, but the timeline, as Diaz-Balart notes, is growing short for any action before the election year.
The Florida congressman worked for years with a bipartisan group on a comprehensive immigration reform plan, but their negotiations fell apart earlier this year after Rep. Raul Labrador (R-Idaho), and later Reps. John Carter (R-Texas) and Sam Johnson (R-Texas), dropped out. With Diaz-Balart the only GOP member left, the group disbanded entirely.
Diaz-Balart has long differed with most of the Republican conference on immigration. He supports a pathway to citizenship for undocumented immigrants and voted for the Dream Act, which would give legal status to undocumented young people who came to the United States as children.
He told Sargent that members working on a bill to address undocumented immigrants are making "great progress."
Diaz-Balart has declined to sign onto a Democrat-led comprehensive immigration bill based on legislation that passed the Senate, though three other pro-reform Republicans signed on last week.
BEFORE YOU GO
PHOTO GALLERY
U.S. Capitol Photos