Obamacare's first month was a mess. After nearly 40 days, HealthCare.gov still doesn't work right, derailing health insurance sign-ups for those in the more than 30 states using the website.
But sign-up efforts in the states that aren't using Healthcare.gov tell a different story. These 14 states and the District of Columbia decided to create their own health insurance marketplaces, and some have seen tremendous success. Others, like Maryland and Oregon, are hampered by problems like those imperiling the federally run site.
Obamacare's fate in these states is just as uncertain as at the federal level, yet success there is crucial if the law is to take hold and thrive. Grass-roots, state-run success stories could inspire others to do more to help the law in the future, while failures could further undermine support for the entire endeavor.
Here's a look at sign-up efforts in the states that aren't using HealthCare.gov.
California
America's most populous state -- and home to 15 percent of the nation's uninsured -- set itself up to be Obamacare's bellwether. Covered California took in more than 47,000 applications for coverage during the first five weeks of enrollment.
Keith Colmar, 61, already is benefitting from the Affordable Care Act. The unemployed plumber dropped his insurance last month because he couldn't afford the $500 monthly premium. "It was either that or not make a mortgage payment," said Colmar, who lives in Tustin, about 30 miles south of Los Angeles.
Last week, he decided to see if Covered California could help. The result: he's getting no-cost coverage from Medi-Cal, the state's Medicaid program. California is among the about half of states expanding Medicaid to more low-income residents. "I called the 800-number and in 20 seconds I got ahold of a human being and discussed everything," Colmar said.
California has its share of problems, too. The state hasn't been certifying workers tasked with helping people enroll at the expected speed, leaving the 10-person team working for the Community Health Alliance of Pasadena unable to actually sit down and help people fill out applications until this week, said CEO Margaret Martinez.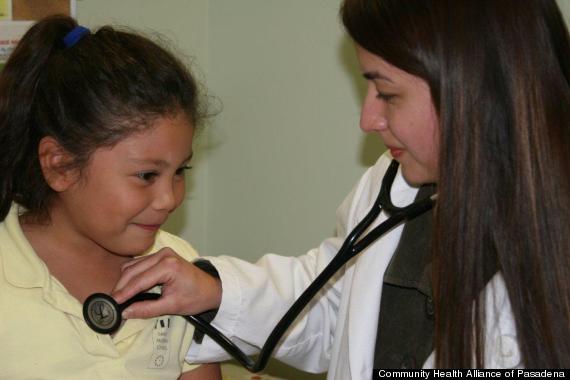 Pediatrician Susan Perez performs a check-up on a young patient at a Community Health Alliance of Pasadena clinic in California.
In the meantime, Martinez and the employees at her three community health centers have focused on public outreach and education efforts around health insurance and Covered California. "We have to make this boat float," she said.
To make sure they don't lose contact with people who want to sign up, the Community Health Alliance of Pasadena uses an iPad app that asks people five questions about their eligibility and takes down their contact information so workers can follow up. "It's kind of like a quick hook to get them thinking about it," Martinez said.
Connecticut
Dana Tellier is disappointed. Days before Obamacare enrollment began on Oct. 1, the 53-year-old uninsured Coventry resident emailed The Huffington Post saying the health insurance marketplace would be a "godsend." Then she looked at the plans for herself and her husband, Doug, 50, on Access Health CT, the state's exchange.
"The deductible was sky-high, and that's to pay $600 a month," Tellier said last week. "I just expected a lot less. I don't know. He just got our hopes up, Obama."
Other Connecticut residents are having the same reaction, according a survey the exchange conducted last month. More than 7,600 people had enrolled as of last Friday.
The Telliers, who own a tattoo and piercing shop called Moon Flower Boutique in nearby Manchester, are the sort of people the Affordable Care Act is supposed to help: Each has a pre-existing condition that resulted in denials by health insurers, and they dropped their old plan two years ago because they couldn't afford the $1,200 monthly premium.
Even though the cheapest plan on Access Health CT is half the cost of their old coverage, Dana Tellier is turned off by the $12,700 annual deductible. "That's not my idea of lower costs," she said. The family earns about $68,000 a year, which is too high to qualify for subsidies.
Tellier expects they'll take the plunge anyway, rather than risk a serious illness. "You just never know," she said.
Washington
So far, the Washington Healthplanfinder has signed up more people than any other exchange: about 55,000 as of Monday, with a nearly equal number of applications pending. Patty Fry of Spokane became one of the enrollees last Thursday.
"I haven't had [health insurance] for like 12 years, so when this Obamacare thing came up, I was like, 'Yay!'" said Fry, 52, who works part-time at a call center. Fry's husband Michael, 50, is awaiting a liver transplant and is covered by Medicare and Medicaid. Between his Social Security disability payments and her wages, the couple will earn about $10,000 this year, Patty Fry said.
She sought help from the Community Health Association of Spokane, a network of community health centers where she's gone for medical treatment. "I was in and out of there in five minutes," she said. Fry qualified for Washington Apple Health, the state's Medicaid program. "It's just a peace of mind," she said.
Mark Secord has seen a lot of people like Fry since Oct. 1 as executive director of Neighborcare Health, a Seattle-based chain of community health centers that employs 21 people who help patients enroll into coverage. "We have peoples' faces lighting up every day," he said.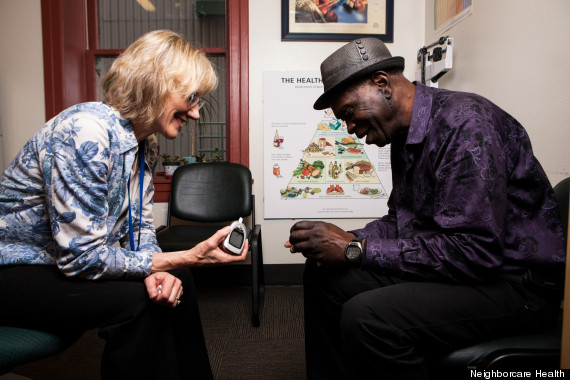 A medical provider and her patient at a Neighborcare Health facility in Seattle. (Photography by Djordje Zlatanovic, courtesy of Neighborcare Health)
The Healthplanfinder website isn't easy to use, which is a "bottleneck" to enrollment, so they've had to resort to paper applications at times, Secord said. Washington has had other problems as well: In an embarrassing setback, the state overestimated the subsidies for 8,000 of its first enrollees.
Still, Secord looks at the states reliant on HealthCare.gov and is grateful to be in the Evergreen State. "It's tough enough to make it work in a state like Washington," he said. "I can only imagine what it's like in the state of Texas or Missouri or some of the states that are openly antagonistic to Obamacare."
Oregon
Oregon was supposed to be one of Obamacare's stars. The state embraced the Affordable Care Act from the start and got national attention for its Portlandia-esque advertising campaign. But signs of trouble began to emerge this summer, when the state announced that Cover Oregon wouldn't be ready on Oct. 1.
It still isn't. Gov. John Kitzhaber (D) has taken to urging residents to stop waiting for the website and start filling out paper applications. In spite of these problems, the state is signing up people for the Oregon Health Plan, its Medicaid program, at a fast clip, as are other states.
Anna Gorman's frustration is boiling over and she doesn't see any good options. Gorman, a 44-year-old Portland artist, is losing the plan she has now -- which she doesn't like -- and will have to replace it with a more expensive plan -- which she can't buy since the exchange isn't working right. "I am sure eventually ACA will be to the betterment of our society. But the implementation in Oregon has been mind-numbingly inept," she said in an email.
Maryland
Maryland Gov. Martin O'Malley (D) likes to talk about how his administration started getting ready the day after Obama signed the Affordable Care Act into law on March 23, 2010. Technical problems with the Maryland Health Connection are cutting into that head start: As of last Friday, about 4,500 Marylanders had signed up.
At that pace, the state is going to have to adjust its expectations of enrolling up to 180,000 people during the first year of Obamacare, said Kathleen Westcoat, the CEO of HealthCare Access Maryland, a Baltimore-based organization under contract to help residents sign up.
"I don't see how the numbers are going to work with losing essentially a month to six weeks," she said.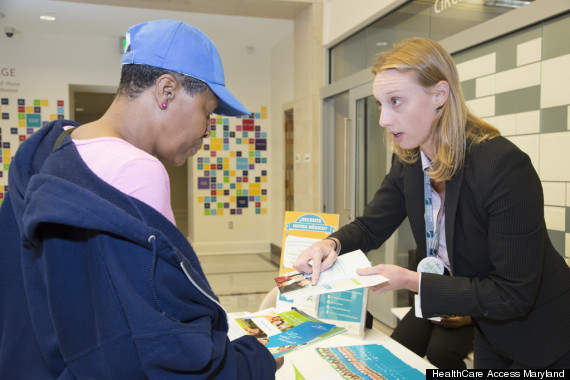 HealthCare Access Maryland employee Aileen Zimmerman, right, speaks to Natha Lee about health insurance enrollment.
Westcoat does find hope in the fact that HealthCare Access Maryland is signing up people and seeing improvements to the exchange every day. "If they're able to fix this thing within the next couple weeks, it is a long enrollment period," she said. The exchanges don't close until March 31, 2014.
Kentucky
Kentucky Gov. Steve Beshear (D) has become a news media fixture for making Kynect, his state's exchange, one of the Affordable Care Act's biggest success stories.
Kentucky has achieved its early results by making sure its technology actually works, using an aggressive ground game to publicize the benefits and building a network of "Kynectors" to help people enroll. More than 30,000 Kentuckians signed up in the first month.
"We're thrilled about this," said Carrie Banahan, the executive director of the Office of the Kentucky Health Benefit Exchange. "Our numbers are exceeding any expectations we had."
Banahan doesn't see any reason the rest of the country can't do the same. "I honestly think there's no difference between Kentucky and another state," she said.
Arthur Delaney contributed reporting.
HuffPost Readers: Did you receive a cancelation notice on your insurance? Email us here and send us a copy of the letter you received, or describe the details of your situation. Include a phone number if you're willing to be interviewed. Let us know if you want to remain anonymous.
CORRECTION: An earlier version of this story used the incorrect name for Washington state's Medicaid program.
BEFORE YOU GO
PHOTO GALLERY
Lies And Distortions Of The Health Care Debate