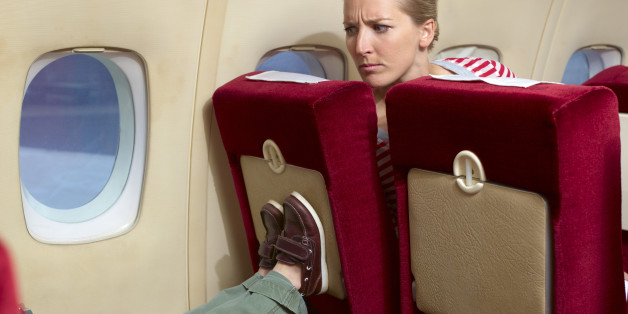 Ok, so you're probably not going to find maggots in your sandwich or be forced to live in a terminal a la Tom Hanks.
But there is a wee chance that these sticky scenarios could potentially present themselves at any moment during your next vacation, so you should be prepared to make a decision if/when they do.
Ready? Let's play a little game of travel-themed "Would You Rather."
WOULD YOU RATHER...
learn your airplane has run out of water OR been delayed for two hours?
WOULD YOU RATHER...
find a cluster of maggots in your sandwich at the airport OR a needle in your sandwich on the plane?

WOULD YOU RATHER...
lose your luggage but land on time OR land 12 hours late with your luggage intact?
WOULD YOU RATHER...
realize the only track on your iPod -- aka the only one you've got for your entire trip -- is an audio version of the flight safety video OR Hanson's "MMMBop?"

WOULD YOU RATHER...
get banged in the knee by the drink cart every seven minutes for the entirety of your flight OR let a toddler pummel you with his sippy cup for one minute before takeoff?
WOULD YOU RATHER...
watch your lavatory door swing open during a meeting of the Mile High Club OR during an epic case of in-flight diarrhea?
WOULD YOU RATHER...
subsist on only airplane pretzels for an entire week OR swallow one shot glass of water from the airplane toilet?

WOULD YOU RATHER...
ride the parking shuttle in circles for six hours OR ride sitting on the luggage carousel for 16 hours?
WOULD YOU RATHER...
breathe out of those drop-down emergency masks for your entire flight OR sit under vents whose air is 80% certain to carry the pneumonia germ?
WOULD YOU RATHER...
sit in a first-class window seat with a view of Tahitian islands OR a last-row aisle seat with a view of Ryan Gosling's back-of-head in front of you?

WOULD YOU RATHER...
have in-flight WiFi but no legroom (like, ZERO inches) OR in-flight legroom but no WiFi?
WOULD YOU RATHER...
take control of the airplane for five minutes (it's on autopilot, but still…) OR take control of beverage service for the entire trip?

WOULD YOU RATHER...
live in an airport terminal for a month (there is NO McDonald's) or on an Airbus A320 for a week (there is NO cell service)?
Best of luck with your decisions, travelers!
BEFORE YOU GO
PHOTO GALLERY
Best And Worst Airline Food