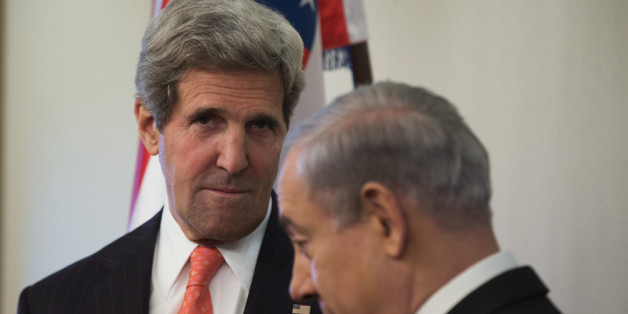 In Jerusalem to rekindle negotiations between Israelis and Palestinians, Secretary of State John Kerry dropped his usual diplomatic air in an interview this week, blaming Israel for the lack of progress, according to the Times of Israel.
Kerry said Israel's continued occupation of the West Bank suggests it's not committed to peace.
"If we don't end the presence of Israeli soldiers perpetually within the West Bank, then there will be an increasing feeling that if we cannot get peace with a leadership that is committed to non-violence, you may wind up with leadership that is committed to violence," Kerry said in a joint Israeli-Palestinian television interview.
Kerry, in his unusually sharp comments, suggested that unless Israel makes a more concerted effort toward peace, Middle East tensions will intensify. "If we do not find a way to find peace, there will be an increasing isolation of Israel [and an] increasing campaign of delegitimization of Israel," he said, according to the Times of Israel account.
Answering a question from an Israeli journalist, Kerry acknowledged Israelis may have been troubled by Israel Prime Minister Benjamin Netanyahu's release of Palestinian prisoners as a way of building trust in peace talks, according to a Washington Post account of the interview.
"I have no illusions," Kerry said, adding, "The alternative to getting back to the talks is the potential of chaos. I mean, does Israel want a third Intifada?"
Following talks with Israeli and Palestinian officials, Kerry travelled to Geneva to join the negotiations over Iran's nuclear program.