A Florida man who is becoming infamous for unsavory antics in his North Fort Myers neighborhood was arrested last week after allegedly taking a walk while wearing his "Clint Eastwood poncho" -- and nothing underneath it.
"I was playing cowboys and Indians in the house, all by myself. I was the naked redskin and the poncho'd cowboy at the same time," Stephen Van Alphen, who faces indecent exposure charges, told reporters from WBBH. "I've got a weird sense of humor."
His neighbors aren't laughing.
"I just I don't like the fact that he's drinking and walking in the neighborhood with no clothes on. My 6-year-old has seen him in the window," neighbor Cheryl Biggs told the station.
Van Alphen, 46, has earned local infamy for allegedly walking around naked "except for a colorful poncho that [reveals] his buttocks and genitals" as he moves, according to a Lee County Sheriff's Office report obtained by the News-Press.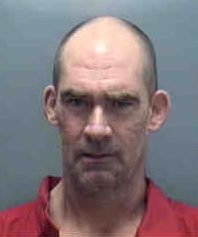 Stephen Van Alphen
When deputies were called to the scene Friday, they recognized Van Alphen as the man who they say once accidentally exposed himself to a 6-year-old while doing what he called a "ninja move," according to the police report.
According to Van Alphen's roommate, the ninja nudist had been on a three-day drinking binge when he stepped out to take a walk in what he calls his "Clint Eastwood poncho."
Before he was arrested, Van Alphen reportedly offered to show them his genitals, and commented, "It is too small for anyone to see it anyway."
Van Alphen is out on bond, and parents want him out of the neighborhood. This isn't the first time he has had a run-in with the law.
In 2011, Van Alphen, then living in Naples, Fla., faced felony charges after police discovered that he'd grown $52,000 worth of marijuana in his closet.
At the time, Van Alphen told the Naples News that he wasn't sorry about growing the marijuana, and that he'd been smoking pot since he was 12 years old.
"It [the pot] did exactly what it was supposed to. I haven't stopped since -- and I'm high right now," Van Alphen said at the time.
BEFORE YOU GO
PHOTO GALLERY
Too Much To Drink?