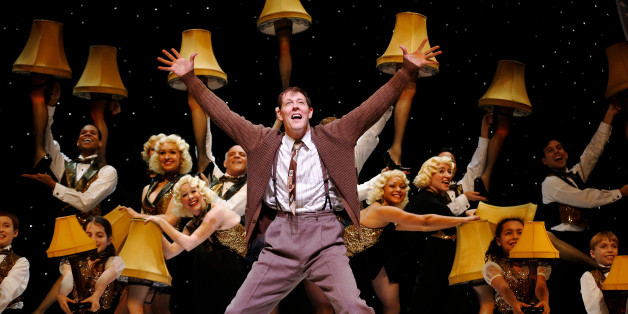 The Black Friday retail debacle might still be weeks away, but New Yorkers and New Englanders will have an excuse to ring in a more jovial aspect of the holiday season earlier than usual with the return of "A Christmas Story: The Musical."
Based on the 1983 cult film favorite, "A Christmas Story: The Musical" focuses on 9-year-old Ralphie (Jake Lucas; alternately played by Eli Tokash at certain performances), whose yuletide quest for a Red Ryder BB gun forms the crux of a hilarious and surprisingly poignant narrative about love, life and the merits of family ties in 1940s Indiana. The 2013 holiday tour of the musical opened in Hartford, Conn. on Nov. 12 and moves to Boston on Nov. 20, then settling in for a New York run on Dec. 11.
"A Christmas Story: The Musical," which nabbed three Tony Award nominations including Best Musical and Best Original Score, allowed book writer Joe Robinette and composer-lyricists Benj Pasek and Justin Paul to showcase the more intimate aspects of the now tried-and-true tale, cast and crew members attest. At a New York press preview of the show in October, the ensemble presented three powerhouse numbers -- "Counting Down to Christmas," "A Major Award" and "You'll Shoot Your Eye Out" -- which made it easy to see why the original Broadway production nabbed glittering reviews from New York Magazine and The New York Times, among other media outlets, when it opened last year.
Check out the original Broadway cast's performance on the 2013 Tony Awards, then scroll down to keep reading:
The recent trend of movie-to-musical adaptations has yielded mixed results. But the specifics of "A Christmas Story" made it very much a natural fit for the stage, according to director John Rando.
"The story is built around a child's excited imagination during the holidays, so all of the songs grow out of that imagination," said Rando, who nabbed a Tony Award for "Urinetown" in 2002. Not that turning such a beloved holiday film into a musical didn't present its own challenges: "The most important thing to me was maintaining the integrity of Jean Shepherd's original idea – his love for his mom and dad and the hard-knock life he had growing up in Indiana, and how all of that converges this time of year. There's a kind of nostalgia in the show that was very important to ignite."
Speaking of nostalgia, the musical has the signature touch of Peter Billingsley, who audiences will remember as Ralphie in the original film, as a producer. Billingsley, who has extensive Hollywood production credits, calls the musical version "a testament" to the timelessness of the source material while taking some artistic liberties: "It's the same spine and the same story, but we're able to delve a lot deeper into the characters. It's a family that's a little dysfunctional, but it's also very real."
The cast boasts Broadway veterans John Bolton ("Spamalot"), Erin Dilly ("Nice Work if You Can Get It") and Caroline O'Connor ("Chicago") in the roles of Ralphie's father "The Old Man," mother and teacher Miss Shields, respectively. O'Connor has the ambitious task of serving as Ralphie's arch nemesis (as evidenced in "You'll Shoot Your Eye Out"), while Bolton stops the show with "A Major Award," in which he appears amidst a chorus line of -- you guessed it -- leg lamps.
"I feel like the luckiest man in show business," Bolton, who originated the role during its initial out-of-town run in Kansas City in 2009, said. "It's a dream come true."
Dilly, who tackles many of the zippy show's quieter moments, felt similarly, offering a backstage memory of the show's 2012 Broadway run. "Last year, Neil Simon came to see the show, and his face was just wet with tears afterward. I'm thinking, 'Here's this hero in American theater who was just so moved.' It's just a great American holiday story."
"A Christmas Story: The Musical" plays The Bushnell Theatre in Hartford, Conn. from Nov. 12 through 17, Boston's Citi Performing Arts Center Wang Theater from Nov. 20 through Dec. 8, and New York's The Theater at Madison Square Garden from Dec. 11 through 29. Check here for more information.
View photos of the 2012 Broadway production below:
BEFORE YOU GO
PHOTO GALLERY
"A Christmas Story: The Musical"