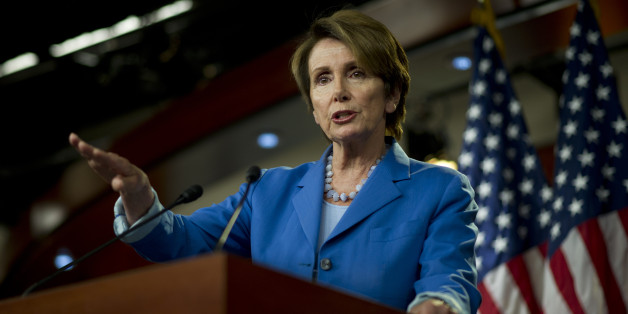 Two new polls finds a reversal of fortune for the Democrats. Two national surveys show Barack Obama taking a hit on "honest and trustworthy." And Nate Cohn finds another PPP data oddity. This is HuffPollster for Wednesday, November 13, 2013.
TWO POLLS FIND GENERIC HOUSE SHIFT TO GOP - A Quinnipiac poll released Wednesday has Democrats and Republicans tied at 39 percent on the House generic ballot -- a marked shift from the end of September, when they found Democrats 9 points ahead. Political independents moved from +2 Democrats to +11 Republicans. Ratings of both parties remained underwater, with Democrats at 38 percent favorable, 48 percent unfavorable, and Republicans at 31 percent favorable, 54 percent unfavorable. [Quinnipiac]
Fox finds similar result - Dana Blanton: "What a difference a couple weeks makes. Republicans have a slim three-point advantage when Americans are asked about their vote preference for Congress in the latest Fox News poll. That's an 11 percentage-point shift from last month when Democrats had an 8-point edge. The poll finds 'if the Congressional election were held today,' 43 percent of voters would back the Republican in their district and 40 percent the Democratic candidate. That's a reversal from last month when 45 percent backed the Democratic candidate and 37 percent the Republican (October 20-22, 2013)." Seventeen polls conducted by other organizations in October and early November found Democrat advantages on the generic House ballot ranging from 4 to 10 percentages points. [Fox, Pollster chart]
PERCEPTIONS OF OBAMA'S LEADERSHIP TAKE A HIT - Lydia Saad: "After six messy weeks -- defined chiefly by the partial government shutdown and troubled rollout of the federal government's healthcare exchange website -- President Barack Obama's reputation with the American public has faltered in some ways, but not in others. Most notably, for the first time in his presidency, fewer than half of Americans, 47%, say Obama is a 'strong and decisive leader,' down six percentage points since September...Similarly, the share of Americans who view Obama as "honest and trustworthy" has dipped five points. Exactly half of Americans still consider Obama honest and trustworthy, but this is down from 55% in September and 60% in mid--2012 as Obama was heading toward re-election." [Gallup]
Quinnipiac poll shows similar trend - Quinnipiac release: "For the first time today, American voters say 52 - 44 percent that Obama is not honest and trustworthy. His previous lowest marks on honesty were May 30, when 49 percent of voters said he was honest and 47 percent said he wasn't."
NATE COHN PICKS AT ANOTHER PPP PROBLEM - Nate Cohn takes on Democratic polling firm Public Policy Polling (PPP) once again over an anomaly in a recent survey of North Carolina. Cohn noticed that a series of Republican candidates had received higher favorable ratings from "very liberal" voters than from conservatives: "I asked PPP if they had an explanation for this phenomenon. They had an answer: 'Looks like there were [a] dozen respondents pressing 1 on every question so they would be favorable toward everyone and very liberal.' Is that possible? Yes. PPP is an automated polling firm, which means the respondent listens to an automated recording and responds by dialing a number ('if you're 18--29 years old, press 1'). So it's not impossible to imagine that a few respondents might decide to troll PPP by dialing '1' in response to every answer. For today's North Carolina survey, those voters would be classified as white, 18--29 years old, female, very liberal, Democratic, supporting Kay Hagan for reelection, and having a "favorable" impression of every candidate—including the Republicans...All in all, the trolls could have representated about 4 percent of PPP's weighted sample—and they unanimously voted for Kay Hagan, who was also option '1.' Given that Hagan held a lead of no more than three points against three of her Republican challengers, it's quite possible that the trolls were decisive." [New Republic]
PPP's response - Asked for comment, PPP's Tom Jensen sends HuffPollster this response: "We're not going to get into the business of trying to guess whether individual poll respondents were being sincere in their responses when we are interviewing hundreds of thousands of people a year. This phenomenon is not having any broad impact on our polling. I want to know when the indignant Nate Cohn piece about Quinnipiac's black percentage in Virginia shifting from 13% in September to 18% in November is coming, or the one about Pew making an ad hoc decision to weight their final poll last year for 2008 vote, or why the most powerful media poll in the Virginia Governor's race was one of the furthest off. To be clear I don't think any of those things are a big deal. But he is clearly pursuing a vendetta against our polling company while paying very little attention to other polling companies making similar decisions. After about the 8th hit piece he's done in the last two months I'm not even reading them in their entirety anymore. And business is better than ever because our clients know the quality of our work for themselves."
The 'straight-lining' problem - Survey researchers have studied problems of this nature for decades. Thirty-two years ago, Regula Herzog and Jerald Bachman wrote a journal article on the tendency of survey respondents to "straight line,' or use the same answer category, for questions that used "identical response scales." The problem typically occurs for self-administered surveys that present answers in the form of a grid, where respondents can select the same answers in a straight line down the page or computer screen. Reg Baker, who co-chaired an online survey task force for the American Association for Public Opinion Research, couldn't speak to automated phone polling or PPP's specific case. But he tells HuffPollster that online pollsters have devised a variety of quality control techniques to detect and remove "professional respondents" who rush through questionnaires for the purpose of earning incentives to complete the survey. "What the research typically shows," Baker says, "is that the percentage of people who are doing this is so low that even if you leave them in the analytic data set, they don't really impact the results." [POQ, see also The Survey Geek, LoveStats]
Twitter commentary:
-Political scientists Drew Linzer: "Yes, it's true. Surveys have measurement error. Wish @Nate_Cohn saw the bigger picture: this is an industry critique." [@DrewLinzer]
-Pollster Matt McDermott (D): "Yes, there are folks that rapidly press through IVR surveys. Yes, you need to filter those folks out!" [@mattmfm]
-Pseudonymous pollster ResearchRants: "Unsure how I feel about filtering those responses, but I've never understood why they don't just ask for actual age." [@researchrants]
HOW TWITTER HELPED COUNT THE VOTES - Julie Hirschfeld Davis reviews how David Wasserman, House Editor at the Cook Political Report, helped to crowdsource reports of irregularities in the vote count for Virginia's "cliffhanger" attorney general's race: "Wasserman, 29, who describes himself as a 'quant-politics-data-nerd,' was one of several analysts who used Twitter to crowdsource the vote-count in real time. Their posted messages were the first to chronicle a set of irregularities that, once scrutinized, swayed the vote count. 'It's clear that the future of canvass and recount scrutiny is social media, and Twitter is an incredibly powerful tool, said Wasserman, who has fielded, vetted and posted tips on dozens of vote discrepancies throughout Virginia via Twitter -- many from people whose real names he doesn't know. He also picked up about 3,000 new followers over the past week. 'The vast majority, if not all, of these errors would have been unearthed by the traditional process of canvassing votes, but it might have taken a lot longer for them to come to light and it might have been a lot less clear in the meantime who was ahead at any point in the race and whether people could trust the process,' Wasserman said." As of Wednesday, Democrat State Sen Mark Herring held a lead of just 163 votes of more than 2.2 million cast over Republican Sen. Mark Obenshain. A recount is likely after the Virginia officials certify the statewide results on November 25. [Businessweek, WaPost]
HUFFPOLLSTER VIA EMAIL! - You can receive this daily update every weekday via email! Just enter your email address in the box on the upper right corner of this page, and click "sign up." That's all there is to it (and you can unsubscribe anytime).
WEDNESDAY'S 'OUTLIERS' - Links to more news at the intersection of polling, politics and political data:
-Guardian columnist (and former Pollster.com intern) Harry Enten joins Nate Silver's FiveThirtyEight. [@Fivethirtyeight]
-Enten also rates the chances of legislative progress on gun control as slim. [Guardian]
-A Democratic-backed poll in Georgia finds Democrat Jason Carter 9 points behind incumbent Gov. Nathan Deal (R). [Politico]
-John Sides reviews the maps and data showing that most Americans live in counties that are neither red nor blue. [WaPost's Monkey Cage]
-Ryan Enos finds that good looks don't win elections. [Monkey Cage]
-Three universities launch a foundation backed program to nurture '"data science culture" in academia. [NYTimes via @LSimonetta]
-Christine Matthews, Katie Packer Gage and Ashley O'Connor launch a political consulting firm to help Republicans win female voters. [NYT]
-Two MIT scholars create "logistic regression classifier" to predict sexual orientation through Facebook friends. [First Monday via Flowing Data]
-Senate polarization over the years, in one animated chart. [HuffPost]