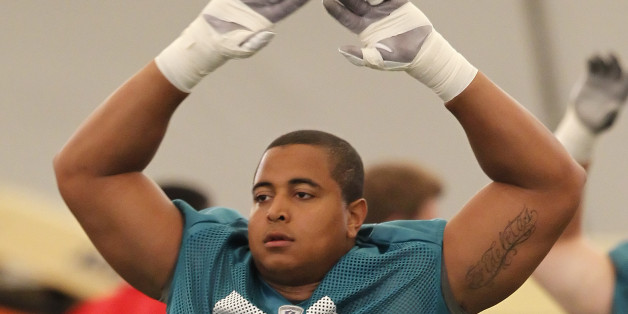 A lot of people are talking about NFL player Jonathan Martin as of late, but they may be talking about the wrong guy.
New York Times national political correspondent Jonathan Martin has reportedly been receiving tons and tons of tweets meant for the Miami Dolphins lineman Jonathan Martin, he wrote on Wednesday in the New York Times. The tweets have been both supportive but also extremely cruel and have taught him about a Twitter culture he didn't know existed.
The other Jonathan Martin, the one people think they are contacting, is part of perhaps one of the biggest stories in sports right now after he left the Dolphins following reports of bullying and mistreatment from teammates.
As the story heated up following Martin's departure, the other Martin at the NY Times says his Twitter inbox started to "flood" with messages.
"My "@" mentions on Twitter began including about an equal mix of hang-in-there notes of encouragement and pointed inquires about the robustness of my manhood," Martin wrote.
Some messages pleaded with Martin to "handle [his] business like a grown man not a 5 year old," while others looked like this:
'Fins look turrible...even if @jmartNYT and @68INCOGNITO were playing, they wouldn't have a prayer

— Ben Golnik (@bgolnik) November 12, 2013
@jmartNYT The @nytimes really needs to do something about it's locker-room culture. Stay strong, man!

— Snap Wilson (@snapwilson) November 11, 2013
Martin said that the confusion was funny at first, but after a while the whole mess gave him a lesson in the negative side of social media and the "courage" that some people seem to find only behind the keyboard.
"As the story has intensified and misplaced 140-character assaults have piled up, though, the misunderstanding has lost some of its charm," he wrote. "I feel bad for my fellow Jonathan Martin — lord knows what his Twitter feed looks like — but the whole affair has also been a reminder about how ugly discourse can be on the Internet."
Well, at least some people got it right:
One is a football player (@J_Martin71) the other a reporter (@jmartNYT). But to many Twerps, they are same person: http://t.co/Sym4fNvps6

— Justin Sablich (@JSablichNYT) November 13, 2013
BEFORE YOU GO
PHOTO GALLERY
New York Times