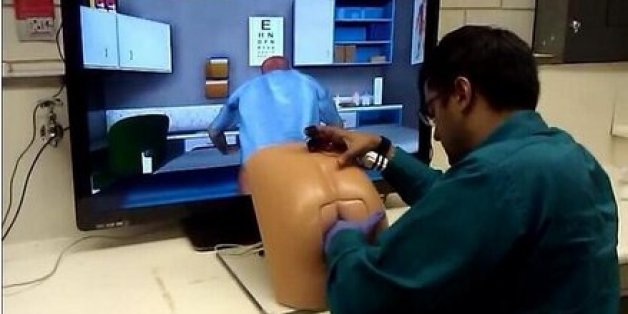 Researchers have invented something truly remarkable -- no ifs or ands, but definitely a butt.
A robotic one at that.
The result is a plastic posterior is hooked up to a video screen featuring a virtual male named "Patrick" who is bent over a desk.
The derriere-device is designed to train budding doctors how to give a prostate exam, according to Dr. Benjamin Lok, the co-creator of the electronic hiney with Dr. Carla Pugh.
"In the experience, the student talks to a virtual person and is able to practice their communication skills" Lok told Geekosystem. "The mannequin is instrumented with force sensors that can measure where the student is examining and with how much pressure. This enables the system to provide a realistic encounter with a virtual patient that includes communication and physical exam components."
The device even measures eye contact between the medical student and the virtual patient to help improve the bedside manner.
"Patrick" is also endowed with force sensors that alert the student when he or she is poking and prodding too hard. It can also register the thoroughness of the examination, Medical Daily reported.
"Patrick" is in use at Drexel University in Philadelphia and at the University of Florida and Lok hopes to use the "rear-search" to help improve virtual humans for other types of touchy situations.
This isn't the first time virtual technology has been used to get to the bottom of the butt.
In 2012, Japanese artist Nobuhiro Takahashi created SHIRI, a robotic rump that can react to "a user's touch, stroke, or slap" and can twitch or tense up on its own.
BEFORE YOU GO
PHOTO GALLERY
Weird News: Strange, But True