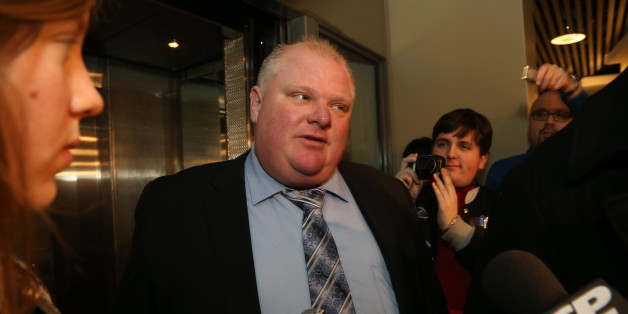 Toronto's embattled mayor may be clinging to his seat of power, but it seems the majority of his constituents and his colleagues want him to step aside.
According to a new poll conducted by global market research company Ipsos, 76 percent of Toronto residents believe that Mayor Rob Ford should either resign permanently or take a break for treatment. Of this number, more than half want him to leave politics for good.
Many of Ford's colleagues have also expressed their unhappiness with his conduct.
Canada's National Post reported that the City Council gathered Wednesday to discuss Ford's fate. Thirty out of 44 city councillors have reportedly signed an open letter asking Ford to take a leave of absence.
"No longer is there confidence in his judgment," City Councilor Denzil Minnan-Wong wrote in an opinion piece for the Globe and Mail last week. "Rightly or wrongly, Mr. Ford has lost the moral authority to lead."
These cries for the mayor to leave the public eye have come in the wake of a number of revelations regarding his erratic behavior. These include his admission to having smoked crack cocaine in a "drunken stupor," as well as a video that was leaked last week in which Ford is seen threatening to kill someone.
But despite mounting pressure, Ford -- who has insisted that he doesn't have a substance abuse problem -- has adamantly refused to resign.
"I'm not going anywhere, guaranteed," Ford told a supporter Monday, according to the Toronto Sun.
According to the Associated Press, Toronto's City Council has no authority itself to remove Ford from office. However, the council says that if the mayor refuses to take a leave absence, they may ask the province of Ontario to pass legislation to oust him.
BEFORE YOU GO
PHOTO GALLERY
Rob Ford's Greatest Gaffes