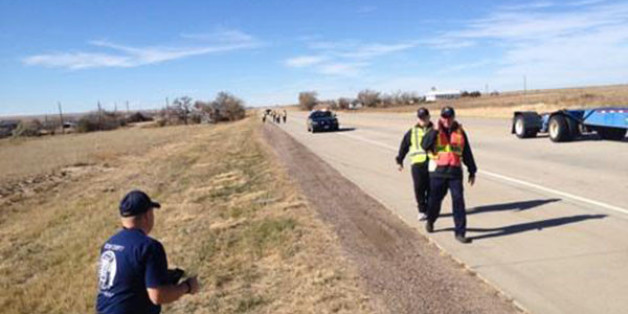 After his bullied gay son Jadin Bell committed suicide, Joe Bell began a cross-country journey in his memory that sought to raise awareness about bullying faced by lesbian, gay, bisexual and transgender (LGBT) youth. When the news broke that Bell had been tragically stuck and killed by a truck before completing his trek, individuals across the country mourned his loss.
Inspired and compelled by Bell's story, law enforcement officials and community members in Colorado banded together to symbolically complete the portion of Bell's journey he was engaged in when he was killed, according to 9 News.
"When a child is bullied there are usually a lot [of] witnesses," Bell told the La Grande Observer prior to his death. "Not doing anything is not acceptable. [Those who watch and do nothing] are just as guilty. They are saying that it is acceptable."
Beginning at the place he was struck by the truck, the group completed a 20-mile walk to Kit Carson, Colo., the town which would have been Bell's next destination. The walk took about six hours.
In an e-mail to The Huffington Post, participants confirmed that they planned to continue the walk to New York City.
Called "Joe's Walk for Change," Bell's journey was slated to span from coast to coast.
Check out a slideshow of community members finishing the final leg of Bell's walk below:

BEFORE YOU GO
PHOTO GALLERY
Deputies Finish Father's Anti-Bullying Walk